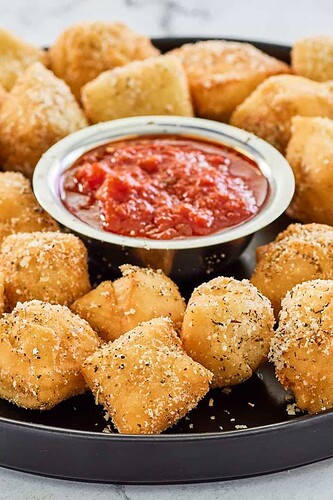 1 pound refrigerated pizza dough or prepare the pizza dough recipe
Homemade Pizza Dough
1/2 cup warm water
1 1/8 teaspoon active dry yeast (1 package of instant yeast)
1 1/4 cups water
2 tablespoons olive oil
4 cups bread flour (22 ounces by weight) plus more for working the dough
1 1/2 teaspoons salt
non-stick spray
Garlic Butter Sauce
3 tablespoons butter
1/2 teaspoon grated or finely minced garlic
Dough Nuggets
4 cups oil for frying plus more if needed
4 tablespoons Parmesan cheese
4 teaspoons Italian seasoning
1 24-ounce jar marina sauce RAO's recommended
Homemade Pizza Dough
Place the 1/2 cup of warm water and yeast together in a medium bowl and whisk together briefly. Allow the yeast enough time to bubble up and become active, this should take a few minutes.
If the yeast is inactive, you may need to replace the yeast and try again. Add room temperature water and oil to the yeast mixture and stir to combine.
Into a food processor bowl, pour in flour and salt, and pulse to combine.
Add yeast, olive oil, and water through the tube of the food processor and process.
The dough will form into a ball. Process until the dough is smooth and elastic.
The dough will be sticky so if you are going to use the dough immediately or within a few days, place it into a bowl that has been sprayed with non-stick spray and cover the dough with plastic wrap.
Let the dough rise until it has doubled in size, this may take up to 2 hours.
Garlic Butter Sauce
Melt butter in a small dish in the microwave.
Add minced garlic and stir to combine.
Dough Nuggets
Divide pizza dough in half. Roll out the dough into a circle, ⅜ inch thick.
Cut the dough into squares.
Heat at least 4 cups of oil into a deep heavy-bottomed pot to 350°F.
Drop a few pieces of dough into the oil and fry until golden. Flip the dough pieces halfway through frying.
Remove cooked dough pieces and place them on a wire rack resting on a baking sheet.
Allow the oil to drain off the nuggets for about 30 seconds.
Sprinkle on some of the cheese and Italian seasoning.
Repeat frying with remaining dough pieces.
Place the dough nuggets in a large bowl and drizzle garlic butter sauce over them. Toss to coat the nuggets with the sauce.
Serve with marinara sauce.