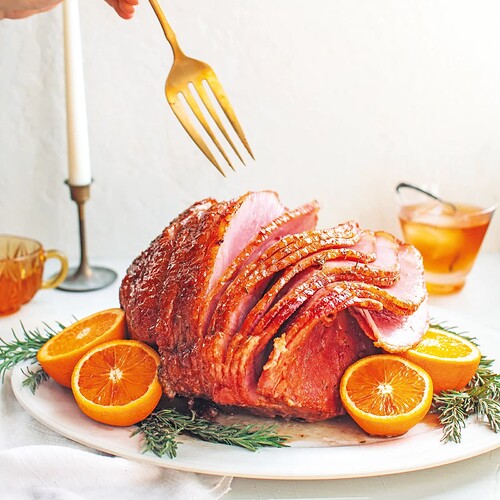 One 10-lb bone-in, fully cooked, spiral-sliced ham
1 cup brown sugar
¼ cup bourbon or other whiskey
2 Tbsp. apple cider vinegar
2 Tbsp. Dijon mustard
1 orange, zested and juiced
1 Tbsp. chopped fresh rosemary
½ tsp. garlic powder
½ tsp. onion powder
½ tsp. ground cinnamon
Freshly ground black pepper
Remove ham from packaging and bring to room temperature for up to 2 hours before baking.
Preheat oven to 325ºF. Arrange a rack in the lower third of the oven and remove upper racks.
In a small pot over medium heat, whisk together brown sugar, bourbon, apple cider vinegar, Dijon mustard, orange zest and juice, rosemary, garlic powder, onion powder, cinnamon, and a few turns of the pepper mill. Bring to a low simmer and cook for 5–6 minutes, stirring frequently, until the sugar has dissolved. Remove from heat and set aside.
Place ham in a large roasting pan, face down. Brush half the glaze over the surface of the ham. Loosely cover ham with foil and bake for 1 hour and 30 minutes. During cooking, brush with remaining glaze mixture every 30 minutes. For the last 15 minutes of cooking, remove foil. Let stand up to 30 minutes before transferring to a serving platter.