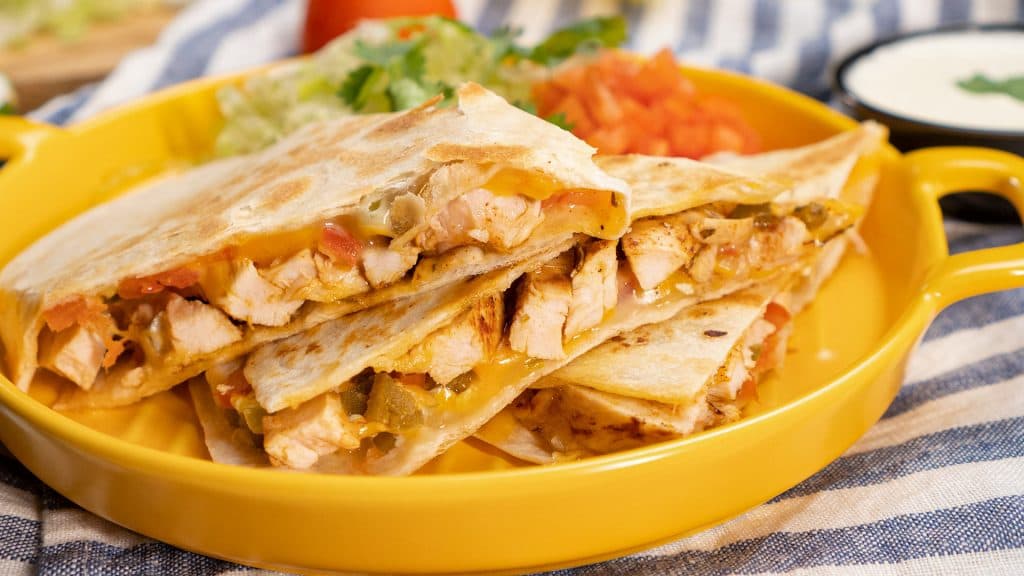 From: America's Most Wanted Recipes Kids' Menu
1 (12-inch) flour tortilla
4 ounces cooked chicken breast, shredded or diced
1 tablespoon Italian dressing
1 tablespoon unsalted butter
1 cup Monterey Jack cheese, shredded
1 small tomato, diced
1 teaspoon Southwestern seasoning
2 tablespoons sour cream
½ cup fresh salsa for dipping
In a bowl, toss the cooked chicken with the Italian dressing and let it marinate for about 30 minutes.
When ready to serve, in a skillet, melt the butter over medium-low heat. Lay the tortilla on top. Fill one side of the tortilla with the chicken. Scatter the cheese over the chicken. Sprinkle with the tomato and Southwestern seasoning. Dot with the sour cream.
Fold the unfilled side of the tortilla over the filled half and cook until the cheese starts to melt. Flip the quesadilla over to toast the other side.
Remove the quesadilla from the skillet and cut into six wedges. Serve with salsa for dipping.
Makes 6 portions