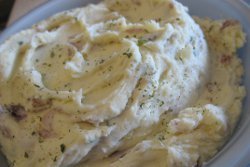 2 pounds washed red potatoes, each potato cut in half
3/4 c. milk
3 T. butter or margarine
1 c. white cheddar cheese, grated
1/4 t. onion powder
3/4 t. salt
1 t. dried parsley or 2 t. fresh, chopped parsley
White pepper to taste
In a saucepan, cover potatoes with water. Bring to a boil and then reduce temperature to a simmer. Simmer potatoes 15 minutes or until fork tender.
Drain potatoes and place in mixer with flat beater.
In a saucepan, combine milk and butter. Heat over medium heat until butter is melted.
'Smash' potatoes in mixer until smooth. Slowly add warmed milk mixture. Add cheese.
Season with onion powder, salt, and parsley. Add white pepper to taste.
Reserve some parsley for the top.