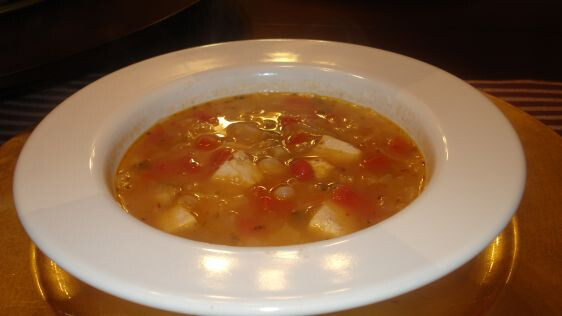 6 cups chicken stock
1 lb. bag great northern beans (soaked in water overnight)
2 medium onions, chopped
6 cups diced cooked chicken
2 jalapeno peppers, seeded diced
2 diced chili peppers
1 1/2 teaspoons oregano
2 teaspoons cumin
1/4 teaspoon cayenne pepper
2 garlic cloves, minced
1 cup salsa
1 tablespoon vegetable oil
salt to taste
Simmer beans, half the onions, and half the garlic for 2 hours in
the chicken stock or until the beans soften, stirring frequently. Add
chicken and salsa. Saute pepper, spices, and the remaining onions and
garlic in the oil and add to the chili. Simmer for one more hour.
Garnish with sour cream or Monterey Jack cheese.
B-man