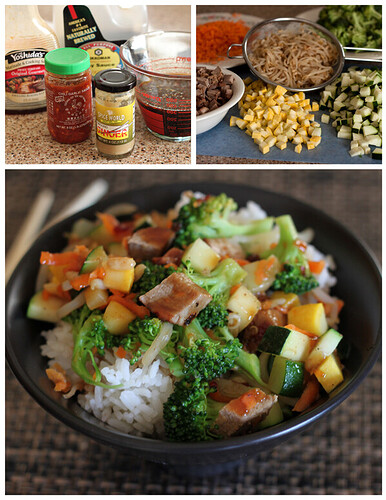 1 cup teriyaki sauce
1 tablespoon soy sauce
1 tablespoon chili garlic sauce
1 teaspoon fresh ginger
1/4 teaspoon salt
1 teaspoon brown sugar
2 tablespoons cornstarch
3 tablespoon cold water
1 tablespoon vegetable oil
4 carrots, peeled and grated
1 small crookneck squash, chopped into small cubes
1 small zucchini, chopped into small cubes
1 cup chopped broccoli florets
1 can (14 oz.) bean sprouts
1 grilled pork tenderloin, cut into small cubes
Combine teriyaki sauce, soy sauce, chili sauce, ginger, salt, and brown sugar in a microwave safe bowl.
Microwave on high until mixture comes to a boil.
In a small dish, combine cornstarch and water and add to sauce.
Microwave on high, stirring occasionally, until sauce thickens.
Heat vegetable oil in a large skillet or wok over medium-high heat.
Add carrots, squash, zucchini, broccoli, and bean sprouts.
Saute vegetables for 1-2 minutes until they are tender but still crisp.
Stir in cubed pork tenderloin.
Serve over coconut rice drizzled with the prepared teriyaki sauce.