Ruth's Chris Steak House Barbecued Shrimp
Like this recipe? Get our Secret Recipes Cookbook Here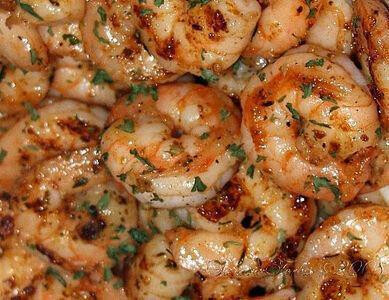 20 Each 16/20 Shrimp (peeled and deveined)
1 oz Canola Oil
1 TBL + 5 tsp Green Onions, chopped
2 oz Dry White Wine
1 tsp Fresh Chopped Garlic
4 TBL Worcestershire Sauce
1 tsp Tabasco Sauce
1/2 tsp Cayenne Pepper
1/2 tsp Paprika
8 oz Butter, salted
Wash shrimp under water and then peel the shells and discard. Devein the
shrimp with a paring knife and then wash under water. Repeat until all
shrimp are done, place on a sheet tray and place in the refrigerator.

Place a large cast iron skillet on a burner and heat over high heat. Add
oil and cook shrimp until they are just done, you may have to do these in
batches if you do not have large skillet. Remove shrimp and set aside.

Add green onions and cook for 1 minute.

Add white wine and reduce the volume by half. ( Any good dry white wine
will work)

When the wine is reduced by half; measure and add the chopped garlic,
Worcestershire, Tabasco, Cayenne Pepper and Paprika. Shake the pan well.
Cook for 1 minute. Reduce the heat to low.

Cut butter into small chunks with the knife and slowly add into pan,
shaking fast to melt butter. Continue to add butter until it's all added and
shake until butter is melted. Add shrimp back to pan and toss well to coat
shrimp with butter and to heat the shrimp.
TO PLATE Place 5 shrimp on small serving plates with a deep edge and ladle
barbecued butter over the top of the shrimp. Repeat with the other shrimp
and sprinkle each plate with 1 tsp of chopped green onions, serve right
away. NOTE: For chopped garlic peel fresh garlic cloves and rough chop with
a chef knife. For green onions, wash green onions under water, shake off and
cut with a chef knife into 1/16? cuts, using the green part only.
Presenter:
Ruth's Chris Steak House Barbecued Shrimp
=-=-=-=-=-=-=-=-=-=-=-=-=-=-=-=-=-=-=-=-=-=-=-=-=-=-=-=-=-=-=-=-=-=-=-=
Belly Flattening Secrets Revealed!
Best Selling Author Bruce Krahn Reveals The 2-Minute Ritual
Proven to Eliminate 1 Pound Per Day of Dangerous Belly Fat.: Here
=-=-=-=-=-=-=-=-=-=-=-=-=-=-=-=-=-=-=-=-=-=-=-=-=-=-=-=-=-=-=-=-=-=-=-=