Ruth's Chris Steak House is well known for exceptional food and wine served in a fine dining atmosphere. With today's secret recipe you can bring a taste of this fine dining experience into your own kitchen. They serve a delicious crab cake which is made with fresh lump crab meat, diced peppers and just the right amount of seasoning. These go great as an appetizer or a light meal.
You can prepare a horseradish-Sriracha remoulade sauce to serve with your crab cakes by using this recipe from our forum: Go Here
Enjoy!
=-=-=-=-=-=-=-=-=-=-=-=-=-=-=-=-=-=-=-=-=-=-=-=-=-=-=-=
Complete Vegan System
1-Month Vegan Diet Plan, to help You Succeed: Go Here
=-=-=-=-=-=-=-=-=-=-=-=-=-=-=-=-=-=-=-=-=-=-=-=-=-=-=-=
=-=-=-=-=-=-=-=-=-=
New Secret Recipe
=-=-=-=-=-=-=-=-=-=
Ruth's Chris Steakhouse Crab Cakes
Ingredients: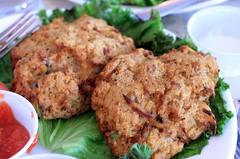 1 pound lump crab meat
1 egg
2 tablespoons chopped fresh parsley
3 tablespoons cracker meal (5 or 6 saltines, crushed)
1/2 cup mayonnaise
2 tablespoons Creole mustard
1/2 teaspoon ground black pepper
1 1/2 tablespoons olive oil
1 tablespoon finely diced red bell pepper
1 tablespoon finely diced green bell pepper
Directions:
Pick through crab meat, removing any shells.

In a medium bowl, whisk together egg and parsley. Add cracker meal, mayonnaise, mustard and pepper; stir until thoroughly blended. Carefully fold in crab, trying not to break up crab pieces. (Mixture may be refrigerated up to 2 days before cooking.)

Preheat oven to 400 degrees F. Place a heavy baking sheet with sides or a shallow ovenproof skillet in the oven to heat.

When pan is hot, drizzle surface with olive oil. Using a 1/4 cup measure, scoop crab mixture onto hot pan and flatten slightly. Bake about 10 minutes, until golden brown and hot on the inside.

Arrange 2 crab cakes on a serving plate; garnish with diced bell peppers.
Serve immediately with your favorite sauce.
Yield: 12 crab cakes.
NOTE: Baking (rather than the usual pan-frying) makes these soft-textured crab cakes easy to handle, but they are rather pale on top. For a better appearance, bake on the uppermost oven rack, or bake 10 minutes, turn the crab cakes, then bake 2 minutes more.
Source: Recipe Secrets Forum
Enjoy!
Until Next Time… Be Well!
Kind Regards,
RSN