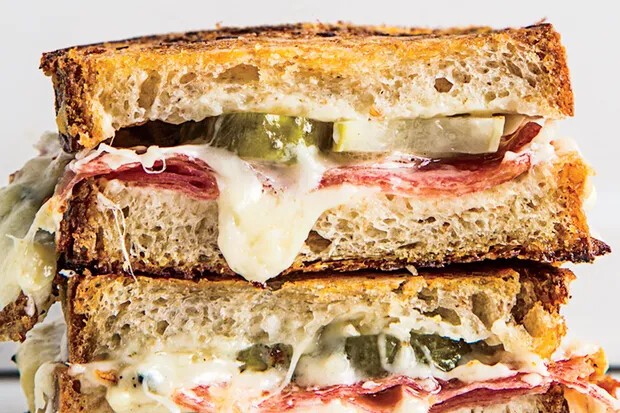 12 ounces Gruyère, Swiss cheese, or sharp cheddar, sliced, divided
8 slices sourdough bread
6 dill pickles, sliced crosswise 1/4-inch thick
6 ounces thinly sliced salami, such as Genoa
6 tablespoons unsalted butter, room temperature
Divide half of cheese among 4 slices of bread. Top with pickles, salami, and remaining cheese. Close sandwiches and spread half of butter evenly over top of bread slices.
Heat a large skillet, preferably cast iron, over medium-low heat. Place sandwiches, buttered side down, in skillet. Spread remaining butter over top of bread. Cook, pressing down with a spatula to encourage melting and turning once, until cheese is melted and bread is golden brown and crisp, 5–7 minutes.