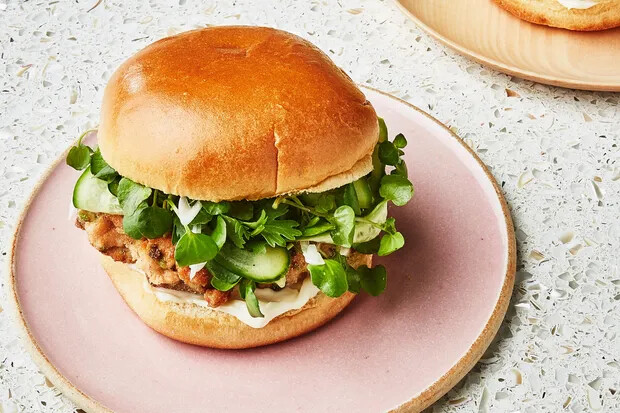 1½ lb. boneless, skinless center-cut salmon, patted dry, cut into 2" pieces
5 scallions
1 (1") piece ginger, peeled, finely grated
1 garlic clove, finely grated
2 tablespoons plus ? cup mayonnaise
1 tsp. kosher salt, plus more
1 tsp. toasted sesame oil
4 tsp. unseasoned rice vinegar, divided
3 medium Persian cucumbers, shaved lengthwise
½ serrano chile, very thinly sliced
1 tsp. sugar
¼ cup (or more) vegetable oil
½ cup rice flour
2 cups tender herbs (such as mint and/or cilantro)
¾ cup trimmed watercress
2 tsp. toasted sesame seeds (optional)
4 brioche buns, lightly toasted
Process one third of salmon (about 8 oz.) in a food processor, scraping down sides as needed, until very smooth and paste-like. Add remaining salmon and pulse until pieces are no bigger than ¼," 4–5 times (be careful not to make it too smooth). Transfer to a large bowl.
Remove dark green tops from scallions and finely chop. Thinly slice white and pale green parts and set aside. Add chopped scallion greens, ginger, garlic, 2 Tbsp. mayonnaise, and 1 tsp. salt to salmon and gently mix to combine. Form mixture into 4 patties about ¾" thick. Transfer to a parchment-lined rimmed baking sheet and cover with plastic wrap. Chill at least 1 hour or up to 3 hours.
Meanwhile, mix sesame oil, 1 tsp. vinegar, remaining ? cup mayonnaise, and a pinch of salt in a small bowl; set aside.
Toss cucumbers with a pinch of salt in another small bowl. Massage with your hands for a few minutes to soften and expel liquid; discard liquid. Add chile, sugar, and 2 tsp. vinegar and toss to coat. Cover and chill pickles until ready to assemble burgers.
Heat vegetable oil in a large nonstick skillet over medium-high. Remove salmon patties from refrigerator and sprinkle with flour just to coat the outside (you won't need all of it). The patties will be a little loose but you can always pat them back together with your hands before they hit the pan. Working in batches and adding more oil in between batches if needed, cook patties until golden brown, about 3 minutes per side (watch carefully; you don't want to overcook).
Toss herbs, watercress, sesame seeds (if using), reserved white and pale green parts of scallions, remaining 1 tsp. vinegar, and a pinch of salt in a medium bowl. Build burgers with buns, patties, herb mixture, pickles, and reserved sauce.