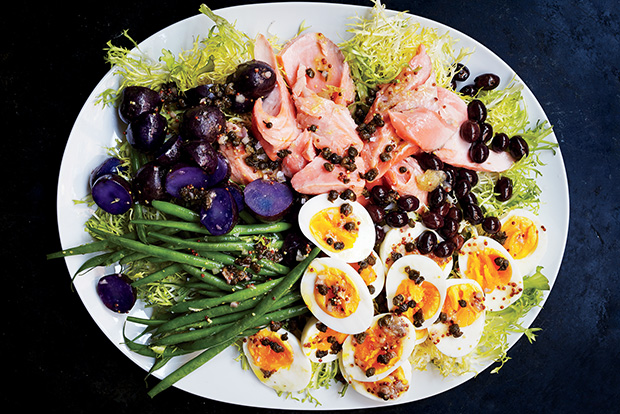 8 ounces small purple potatoes
Kosher salt
4 ounces haricots verts, trimmed
6 large eggs, room temperature
2 tablespoons plus 1/4 cup olive oil
1/4 cup drained capers, patted dry
1 pound skin-on salmon fillet
Freshly ground black pepper
4 anchovy fillets packed in oil
1 tablespoon whole grain Dijon mustard
1/2 teaspoon sugar
1 lemon
1/2 medium shallot, finely chopped
4 cups frisée or mâche
1/4 cup niçoise olives, pitted
Place potatoes in a medium saucepan and add cold water to cover by 1". Bring to a boil, season with salt, and cook until fork-tender, 15–20 minutes. Transfer potatoes to a plate with a slotted spoon.
Return water to a boil and cook haricots verts in same saucepan until crisp-tender, about 2 minutes. Using a slotted spoon, transfer to a bowl of ice water. Chill until cold, about 3 minutes. Transfer to paper towels and pat dry.
Return water in pot to a boil and cook eggs 8 minutes. Transfer eggs to bowl of ice water and chill until cold, about 5 minutes. Peel; set aside.
Meanwhile, heat 2 tablespoons oil in a small saucepan over medium-high. Add capers and cook, swirling pan occasionally, until capers burst and are crisp, about 5 minutes. Transfer capers with a slotted spoon to paper towels to drain. Let oil cool; set aside.
Preheat oven to 425°. Rub salmon all over with reserved caper oil and place on a rimmed baking sheet; season with salt and pepper. Roast until medium-rare (fish will be slightly translucent in the center), 10–12 minutes. Let cool.
Meanwhile, mash anchovies, mustard, and sugar in a large bowl to form a coarse paste. Remove peel and white pith from lemon. Working over bowl, cut between membranes of lemon to release segments. Squeeze remaining juice from membranes into bowl; discard membranes. Whisk in shallot, then slowly whisk in remaining 1/4 cup oil. Season vinaigrette with salt and pepper.
Using a fork, break salmon into large flakes; discard skin. Halve reserved potatoes and eggs crosswise.
Arrange frisée on a platter; season with salt and pepper. Drizzle with half of dressing. Top in separate piles with potatoes, haricots verts, hard-boiled eggs, olives, and salmon. Drizzle salad with remaining dressing and top with fried capers.
Epicurious