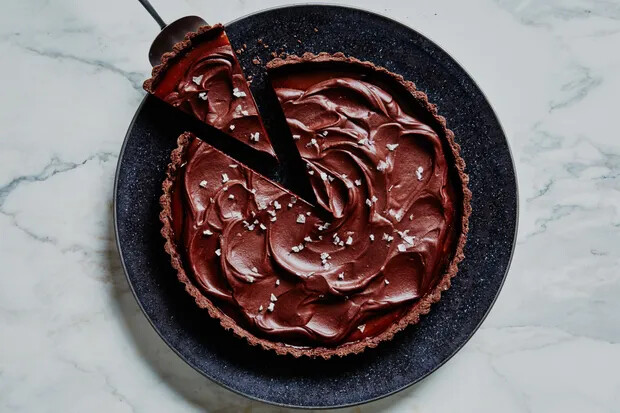 For the crust:
1/2 cup whole almonds, skin on
8 tablespoons unsalted butter (1 stick), softened
1/2 cup granulated sugar
1/2 teaspoon vanilla extract
1 1/4 cups all-purpose flour
1/2 teaspoon kosher salt
For the caramel filling:
4 tablespoons unsalted butter, cut in tablespoons and chilled
1/2 cup heavy cream, measured and chilled
1 1/2 cup granulated sugar
1/4 cup water
2 tablespoons light corn syrup
1 teaspoon vanilla extract
1/4 teaspoon salt
For the ganache topping:
6 ounces bittersweet chocolate, chopped
8 ounces crème fraîche, at room temperature
2 tablespoons unsalted butter, at room temperature
2 tablespoons light corn syrup
Flaky salt, for garnish
Make the tart shell:
Preheat oven to 300°F. In the bowl of a food processor, pulse almonds until finely ground; remove and set aside. Add butter, sugar, and vanilla to food processor and pulse to combine well. Return ground almonds to food processor along with flour and salt and pulse briefly until a dough begins to form. Transfer dough (it will be crumbly) to a 10-inch tart pan with a removable bottom. Press the crumbs into the bottom and up the sides, using your knuckles to spread it as evenly as possible. Chill until firm, at least 30 minutes. Prick dough all over with a fork and bake until just golden brown, about 45 minutes. Set pan on a wire rack and let crust cool completely.
Make the caramel:
Place a pastry brush in a cup of water near the stove. In a medium saucepan, stir together the sugar, water, and corn syrup. Cook over medium-high heat, swirling gently but not stirring, and occasionally using the pastry brush to wash down any sugar crystals from the sides of the pan. Continue to cook until caramel reaches a dark amber color, swirling frequently as it darkens, 15 to 20 minutes total. Remove from heat and carefully add the cream all at once (it will bubble up). Add the butter, vanilla, and salt, and when the bubbles die down a bit, whisk caramel until smooth. Pour into tart shell and set aside to cool for 20 minutes. Then, refrigerate until chilled, at least 1 hour, or up to one day ahead.
Make the ganache:
After the caramel-filled tart has chilled for at least an hour, melt the chocolate gently in a bowl set atop barely simmering water in a saucepan. Stir until smooth and set aside to cool slightly. Stir the crème fraîche into the chocolate, followed by the butter and corn syrup. Stir to combine well. Spread over the cooled caramel tart and refrigerate until set, at least 30 minutes (or up to 3 hours). Let stand at room temperature for 30 minutes before serving, and garnish with flaky salt, if desired.
DO AHEAD: The tart shell can be baked up to 2 days ahead of time. Store at room temperature, covered with foil. The tart shell can be filled with caramel up to one day ahead of time and kept in the refrigerator.