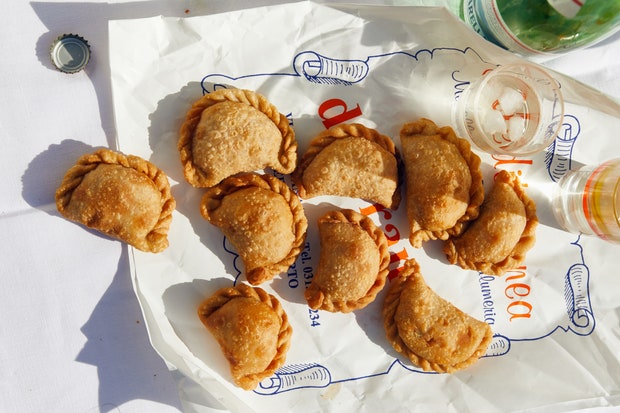 Dough:
4 oz. lard, melted, slightly cooled
1 Tbsp. kosher salt
1 Tbsp. red wine vinegar
6 cups all-purpose flour, plus more for surface
Filling:
1 lb. small shrimp, preferably head-on, peeled, deveined, shells and heads reserved
4 Tbsp. extra-virgin olive oil, divided
1/3 cup dry white wine
1 medium onion, very finely chopped
4 garlic cloves, thinly sliced
6 Tbsp. chilled unsalted butter, cut into pieces
2 Tbsp. finely chopped cilantro
1 tsp. finely grated lemon zest
1/2 tsp. crushed red pepper flakes
Kosher salt
Vegetable oil (for frying; about 8 cups)
Dough:
Mix warm lard, salt, vinegar, and 2 cups lukewarm water in a large bowl to combine.
Gradually add 6 cups flour, mixing with a sturdy wooden spoon or your hands until a shaggy dough forms.
Transfer dough to a lightly floured surface and knead until mostly smooth and no dry spots remain, about 2 minutes.
Wrap in plastic and chill at least 2 hours.
Filling and assembly:
Cut shrimp in half lengthwise, then finely chop and set aside.
Heat 2 Tbsp. olive oil in a large saucepan over medium-high.
Add reserved shrimp shells and heads (if using) and cook, smashing down on shells and heads occasionally with a wooden spoon,
until pink and bottom of pot begins to brown, about 5 minutes
Add wine and cook until reduced by half, about 2 minutes.
Add 2/3 cup water; bring to a boil.
Reduce heat to low and simmer until reduced by one-third, 6–8 minutes.
Let cool.
Strain stock through a fine-mesh sieve into a heatproof measuring glass, pressing on solids; discard solids.
Wipe out pan, add remaining 2 Tbsp. olive oil, and set over medium heat.
Cook onion, stirring often, until softened but without taking on any color, about 5 minutes.
Add garlic and cook, stirring, until softened, about 3 minutes.
Add shrimp stock and reserved shrimp and cook, stirring occasionally, until most of the shrimp have turned pink, about 2 minutes.
Remove from heat.
Mix in butter, cilantro, lemon zest, and red pepper flakes; season with salt.
Let cool 20 minutes, then transfer to a medium bowl.
Chill at least 1 hour before using.
Divide dough into 6 equal pieces.
Cover all but 1 piece with plastic wrap and chill.
Roll out remaining piece of dough to a 14" round about 1/16" thick.
Using cutter, punch out 6 rounds from dough.
Place 1 Tbsp. filling in the center of each and brush water halfway around edge of each round.
Fold dry side of dough up and over filling to create a semicircle.
Pinch edges to seal; crimp.
Transfer to a parchment-lined rimmed baking sheet.
Repeat with remaining dough and filling.
Chill 20 minutes.
Meanwhile, pour vegetable oil into a large heavy pot fitted with thermometer to come halfway up sides.
Heat over medium-high until thermometer registers 350°F.
Working in batches and adjusting heat to maintain temperature, fry empanadas, turning often, until deep golden brown, 5–7 minutes per batch. Transfer to a wire rack set over paper towels; let cool 2 minutes before serving.