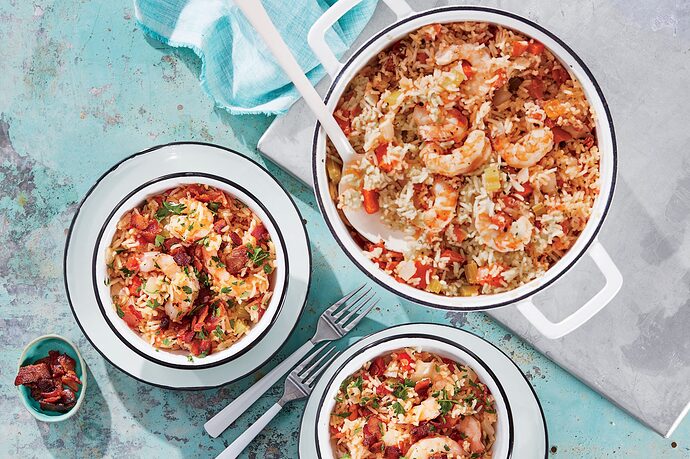 4 thick-cut bacon slices (about 6 oz.), chopped
2 cups chopped sweet onion
1 1/2 cups chopped celery
1 cup red bell pepper, chopped
3 tablespoons minced garlic
1/2 teaspoon black pepper
3 teaspoons kosher salt, divided
1/2 cup dry white wine
2 (14.5 oz.) cans fire-roasted diced tomatoes, drained
1/2 teaspoon crushed red pepper
7 cups seafood stock
3 cups uncooked basmati rice
3 tablespoons unsalted butter
1 1/2 pounds raw medium shrimp, peeled and deveined
1/4 cup chopped fresh flat-leaf parsley
Cook bacon in a Dutch oven over medium, stirring often, until crisp, 8 to 10 minutes.
Transfer bacon with a slotted spoon to a plate lined with paper towels to drain,
reserving 1/4 cup of the bacon drippings in Dutch oven.
Increase heat to medium-high. Add onion, celery, and bell pepper to Dutch oven;
cook, stirring often, until vegetables soften but haven't begun to brown, about 5 minutes.
Add garlic, black pepper, and 1 teaspoon of the salt; cook, stirring often, until fragrant, about 1 minute.
Add wine, stirring and scraping to loosen browned bits from bottom of skillet.
Add tomatoes and crushed red pepper; cook, stirring often, until most of the liquid has evaporated, about 3 minutes.
Stir in stock, rice, and butter; bring to a boil.
Reduce heat to low; cover and cook until rice is just tender, 10 to 12 minutes.
Remove from heat.
Working quickly, gently stir in shrimp; cover and let stand until shrimp are cooked through, 3 to 5 minutes.
Stir in remaining 2 teaspoons salt.
Top servings evenly with parsley and bacon.