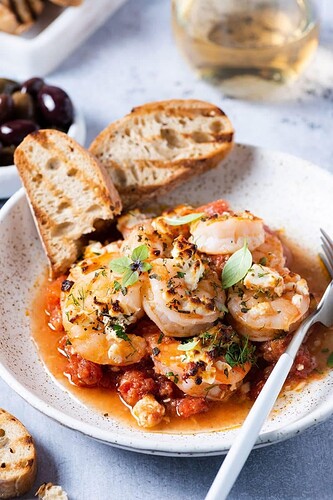 4 tablespoons olive oil Greek extra virgin olive oil preferred
1/2 cup onions, finely chopped
4 garlic cloves chopped
1/4 cup Greek ouzo or white wine optional
1 28-ounces can diced tomatoes
1 1/2 teaspoon sea salt or Kosher salt
1/4 teaspoon ground black pepper
1 teaspoon dried oregano divided
1/2 teaspoon crushed red pepper flakes more or less to taste
1 tablespoon honey
1 1/2 pounds extra large shrimp 26/30, peeled and deveined, thawed if frozen
6 ounces feta cheese crumbled
1 tablespoons fresh parsley chopped
1 tablespoons fresh dill roughly chopped
Preheat the oven to 400ºF. Set an oven rack in the middle position and set a rack about 6 inches below the broiler.
In a large oven-safe skillet heat the oil over medium heat. Add the onions and cook, stirring occasionally for about 5 minutes or until softened, stir in the garlic and cook for 1-2 minutes making sure the onions and garlic don't get browned.
Stir in the Greek ouzo or white white (if using) and bring to a boil. Cook until the liquid is reduced by half, about 2-3 minutes.
Stir in the tomatoes with their juices, salt, pepper, about half of the dried oregano, crushed red pepper flakes and honey. Bring to a boil then, reduce the heat to low and cook stirring occasionally for about 15 minutes or until the sauce thickens. Remove from the heat.
Arrange the shrimp in an even layer over the tomato sauce. Top with the crumbled feta cheese and sprinkle with the remaining dried oregano.
Place the skillet in the oven and bake for 12-14 minutes or until the shrimp have just become pink and cooked through. Exact time will vary depending on the size of the shrimp.
Turn the broiler on and with an oven mitt, carefully place the skillet on the rack under the broiler. Broil for about 2 minutes or until the feta cheese is browning in a few spots.
Remove from the oven and allow to rest for about 4 minutes then, sprinkle with fresh herbs and serve.