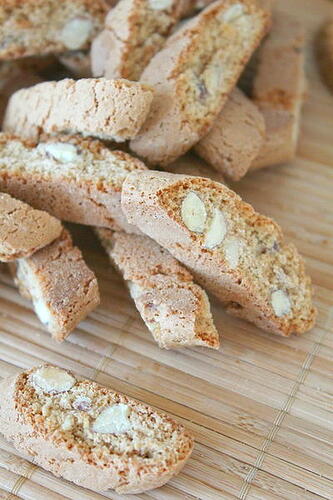 2 1/2 cups all-purpose flour
1 cup sugar
2 teaspoons baking powder
1/4 teaspoon fine salt
3 large eggs, lightly beate
1 tablespoon pure vanilla extract
1 cup slivered almonds, toasted
1/2 teaspoon almond extract
3 baking sheets
parchment paper
Preheat oven to 350.
Prepare a baking sheet by lining with parchment paper
In a large bowl, whisk together flour, sugar, baking powder, and salt.
With a hand mixer, beat in eggs and vanilla until combined.
Add almonds and almond extract and beat until combined.
Divide dough in half and transfer to a baking sheet.
Form each half into a log of about 2 1/2" wide and 3/4" tall.
Bake until dough is firm but gives slightly when pressed (20 to 25 minutes), rotating sheet halfway through.
Let cool on sheet on a wire rack for 20 minutes.
Meanwhile, prepare 2 baking sheets by lining with parchment paper.
With a serrated knife, cut the log into 1/4" slices on the diagonal.
Arrange, cut side down, on 2 baking sheets.
Bake until biscotti are crisp and golden, about 15 minutes; rotate sheets and flip biscotti halfway through.
Let cool on sheets on wire racks.