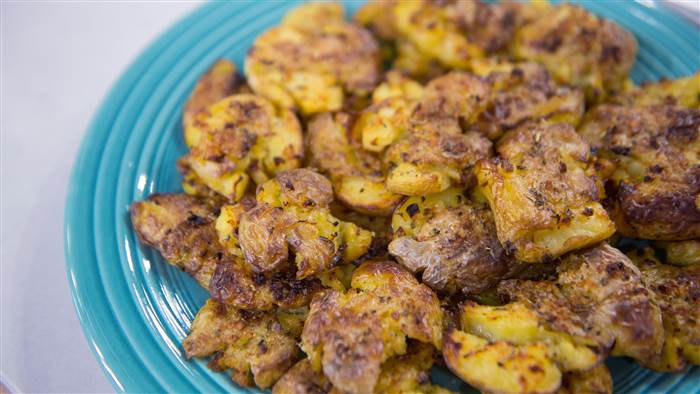 2 pounds (about 2 dozen) baby potatoes
1/4 cup extra virgin olive oil
4 large cloves garlic, minced
1 heaping tablespoon Parmesan, grated
1/2 teaspoon Italian seasoning
1/2 teaspoon salt
1/4 teaspoon pepper
Preheat oven to 450°F.
Place washed potatoes in a large pot of salted water, covering by one inch. Bring to a boil, and then simmer for about 10 minutes, until potatoes are fork tender.
While potatoes are boiling, add olive oil, garlic, Parmesan, Italian seasoning, salt and pepper to a bowl and stir to combine.
Spray a large baking sheet with cooking oil. Place drained potatoes about an inch apart. Using a potato smasher (or a large fork), lightly smash each potato, breaking them open slightly.
Drizzle the oil mixture on each potato. Bake for 20 minutes, until crispy and golden.