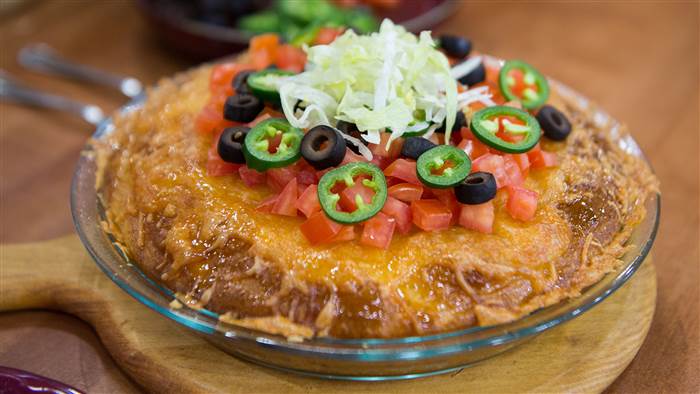 TACO PIE
2 cups pancake mix
1 cup milk
2 eggs
2 cups chicken breast, cooked and shredded
1/2 cup corn kernels
1 cup enchilada sauce
2 cups Mexican cheese blend, shredded
TOPPINGS
Lettuce, shredded
Tomatoes, diced
Olives, sliced
Pickled jalapeños, sliced
Preheat oven to 400°F. Coat an 8-inch pie pan with non-stick cooking spray.

In a small bowl, whisk together the pancake mix, milk and eggs. Set aside.

In a medium bowl, stir together chicken, corn and enchilada sauce.

Pour the pancake mix into the pie pan. Top with the chicken mixture and then the shredded cheese.

Bake for about 20 minutes, until everything is golden and bubbly.

Serve with the lettuce, tomatoes, olives and jalapeños.
Technique tip: Use your stand mixer to shred the chicken breasts. Put the cooked chicken breasts (while they're still warm) in a stand mixer fitted with a paddle attachment. Turn the mixer to medium low speed and let process for about 30 seconds. It's that easy!
Swap option: You can certainly use cooked ground beef instead of chicken if you prefer.