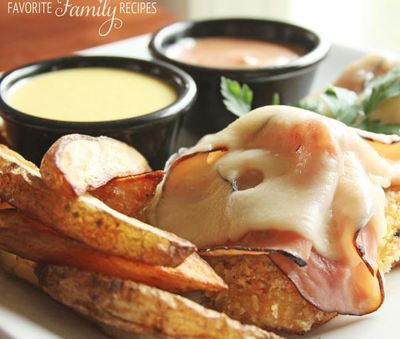 3 egg yolks
2 cloves garlic, minced
4 boneless, skinless chicken breast halves
6 Tbsp. butter
1 c. Panko bread crumbs (Japanese bread crumbs)
1 c. grated Parmesan cheese
1 Tbsp. dried parsley
1 Tbsp. garlic powder
½ Tbsp. salt
1 Tbsp. ground black pepper
4 slices black forest ham
4 slices Swiss cheese
CREOLE MUSTARD SACUE:
2 tablespoons Grey Poupon Dijon mustard
3 tablespoons mayonnaise
1 teaspoon yellow mustard
1 teaspoon honey
Mix together the creole mustard sauce ingredients and refrigerate.
In a small bowl, beat egg yolks with garlic. Place chicken and egg mixture in a large Ziploc bag, squeeze out all the air and seal tightly. Refrigerate for at least 4 hours, or overnight if possible.
Preheat oven to 400 degrees. Melt butter and pour into bottom of a 9x13 baking dish. Mix together the bread crumbs and Parmesan cheese, parsley, garlic powder, salt and pepper. Dip marinated chicken in crumb mixture. Place coated chicken in baking dish, and pour remaining egg mixture over the top.
Bake for 15 min on each side or until chicken is no longer pink and juices run clear. Top each piece of chicken with ham and slice of Swiss cheese. Place back in the oven for about 5 min or until cheese is melted. Remove from oven and serve with Creole Mustard Sauce.
These also make GREAT sandwiches or wraps the next day, just cut it into strips.