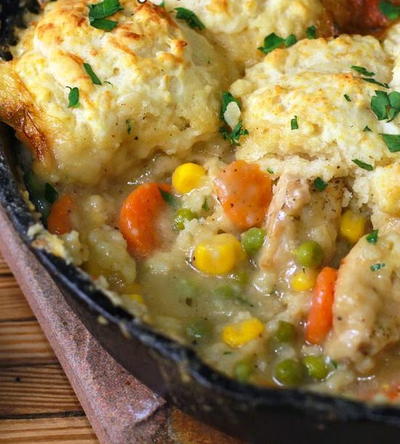 3 Tbsp unsalted butter
1 lb boneless skinless chicken breast, cut into bite size pieces
½ tsp black pepper
½ tsp kosher salt
¼ cup all-purpose flour
3 cups chicken stock
2 cups frozen vegetables, (corn, peas and carrots)
3 oz fresh Parmesan cheese, grated
1 tsp dried parsley
Cheesy Drop Biscuits:
2 cups all-purpose flour
2 oz fresh Parmesan cheese, grated
1 Tbsp baking powder
1 Tbsp granulated sugar
½ tsp kosher salt
½ cup unsalted butter, melted
1 cup whole milk
Preheat oven to 450°F.
Melt butter in a (10-inch) oven safe skillet over medium-high heat. Add chicken and sprinkle with salt and pepper. Cook until chicken is browned, about 2 minutes each side.
Add flour and whisk to combine. Slowly add chicken stock while whisking skillet. Whisk until well combined. Add in vegetables and cheese. Stir to combine. Reduce heat to medium. Allow mixture to come to a boil, stirring occasionally.
Meanwhile: In a large mixing bowl combine flour, cheese, baking powder, sugar and salt. Whisk to combine well. Add butter and milk. Stir to combine.
Drop biscuits by the rounded tablespoon full on top of pot pie. Place skillet on cookie sheet and then slide into the oven. Bake for 10-12 minutes, until biscuits are golden brown.
Sprinkle with fresh parsley.