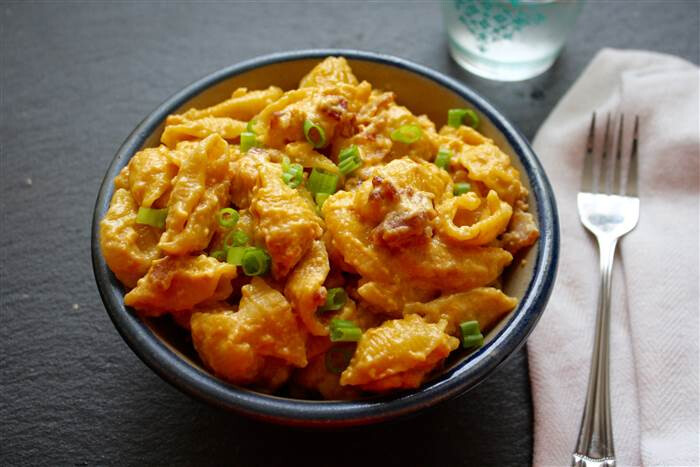 1 pound pasta shells
1 10.75-ounce can condensed Cheddar cheese soup
2 cups whole milk
2 12-ounce cans evaporated milk
2 tablespoons butter, melted
2 teaspoons Worcestershire sauce
1 teaspoon mustard powder
1/2 teaspoon freshly ground black pepper
2 cups shredded sharp Cheddar cheese
1 cup shredded Monterey jack cheese
2 garlic cloves, minced
12 slices cooked bacon, chopped and divided
Sliced scallions, for garnish (optional)
Spray a 6-quart slow cooker with cooking spray. Add the pasta shells.
In a large bowl, whisk together the condensed Cheddar cheese soup, whole milk, evaporated milk, melted butter, Worcestershire sauce, mustard powder and black pepper. Stir in the shredded Cheddar, shredded Monterey jack, garlic and half the cooked bacon.
Carefully pour the cheese mixture over the pasta and gently stir until all the pasta is coated.
Cover and cook on high for 30 minutes. Reduce the heat to low and cook for another 2 1/2 hours.
Stir in the reserved cooked bacon and serve garnished with sliced scallions if desired.