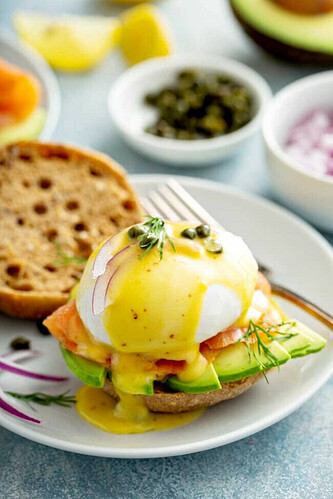 For the Hollandaise Sauce:
3 large egg yolks
1 tablespoon lemon juice or more to taste
½ teaspoon Dijon mustard
½ teaspoon sea salt
Pinch of cayenne pepper, optional
1/2 cup unsalted butter
For the Salmon Benedict:
2 English muffins split in half and toasted lightly
4 large poached eggs
1 ripe avocado halved, seeded, peeled and sliced thinly
8 ounces smoked salmon
2 tablespoons capers
2 tablespoons red onion thinly sliced or small diced
1 tablespoon fresh dill chopped (to garnish)
To Make the Hollandaise Sauce:
Place the egg yolks, lemon juice, Dijon mustard, salt, and cayenne pepper (if using) in the jar of a blender. Blend for about 10 seconds.
Melt the butter in the microwave, covered to prevent splatters until hot and completely melted, about 50 seconds to 1 minute depending on your microwave. You can also melt the butter over low heat on the stove top.
With the blender running on medium, slowly pour the hot butter into the egg/lemon mixture until emulsifies into a sauce.
To Assemble:
Place avocado slices on each English muffin. Top with smoked salmon slices and then poached eggs. Drizzle with Hollandaise sauce. Garnish with capers, red onions, and dill. Serve with asparagus, tomatoes and/or arugula and lemon wedges.