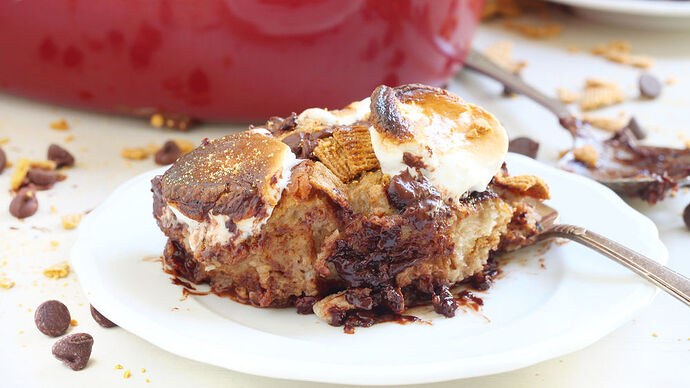 8 slices whole wheat bread (or whichever kind you like), toasted, chopped into 1" pieces*
5 eggs
1¼ cup milk
1 tsp vanilla
¼ cup granulated sugar
1/2 cup milk chocolate chips
1 cup mini marshmallows
1 full graham cracker, chopped (about ½ cup)
Lightly grease an 8x8" pan.
To the pan add the bread. In a medium bowl, whisk together eggs, milk, vanilla, and sugar and pour over bread. Cover with a piece of plastic wrap and let sit until egg mixture is absorbed (at least 4-5 hours or overnight).
Preheat oven to 350 degrees F. Uncover and bake for 30 minutes, until almost set.
Sprinkle with chocolate, marshmallows and graham crackers and bake for 5 minutes until marshmallows and chocolate are gooey. If desired, broil for no more than 1 minute to brown marshmallows.
Serve warm – no syrup needed!