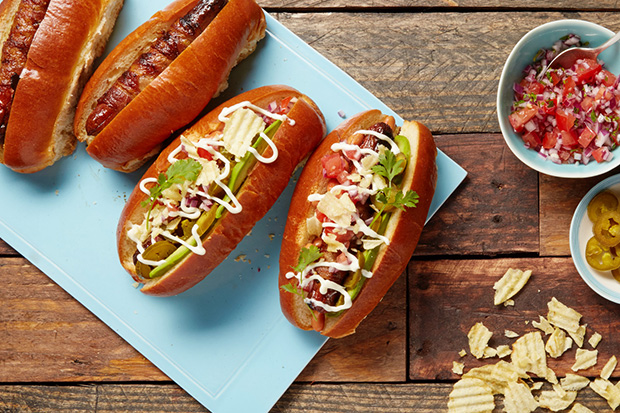 Pico de gallo:
1 medium tomato, seeded, diced (about 1/4 cup)
1/2 medium red onion, diced
1/2 garlic clove, minced
3 tablespoons fresh lime juice
1 tablespoon chopped fresh cilantro
1 teaspoon cayenne pepper
1 teaspoon kosher salt
Hot dogs:
4 hot dogs
4 slices bacon
4 large hot dog buns or torpedo rolls (preferably not split)
1/4 cup canned pinto beans
1/2 avocado, thinly sliced
1/4 cup pickled jalapeño slices
Mayonnaise (for serving)
1/2 cup potato chips, loosely crushed
Sprigs of cilantro (for serving)
Make the pico de gallo:
Combine tomato, red onion, garlic, lime juice, cilantro, cayenne, and salt in a small bowl. Set aside.
Cook and assemble the hot dogs:
Prepare grill for high heat. Wrap each hot dog in 1 bacon slice and grill, turning often, until bacon is cooked through and crisp on all sides, 12–14 minutes.
Meanwhile, slice open buns, leaving ends intact. Gently toast in a 350°F oven or on grill until buns are warmed through and lightly crispy.
Nestle hot dogs into buns. Spoon 1 Tbsp. beans on one side of each dog, then arrange avocado slices and 1 Tbsp. jalapeños on the other side. Drizzle mayonnaise over hot dogs and top evenly with chips and cilantro.
Epicurious