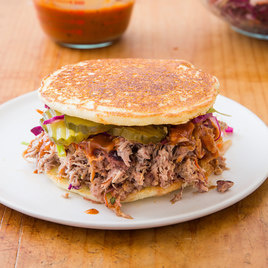 Pork
1 (5- to 6-pound) bone-in pork butt roast, trimmed
Kosher salt
2 cups wood chips
1 (13 by 9-inch) disposable aluminum roasting pan
Barbecue Sauce
1 cup ketchup
1/4 cup cider vinegar
1/4 cup water
2 tablespoons yellow mustard
1 tablespoon Worcestershire sauce
1 teaspoon granulated garlic
1 teaspoon pepper
Other
Hoecakes (see below)
Dill pickle chips
Coleslaw
FOR THE PORK: Using sharp knife, cut 1-inch crosshatch pattern about 1/4 inch deep in fat cap of roast, being careful not to cut into meat. Pat roast dry with paper towels. Place roast on large sheet of plastic wrap and rub 2 tablespoons salt over entire roast and into slits. Wrap tightly with plastic and refrigerate for 18 to 24 hours.

Just before grilling, soak wood chips in water for 15 minutes, then drain. Using large piece of heavy-duty aluminum foil, wrap soaked chips in foil packet and cut several vent holes in top.
3A. FOR A CHARCOAL GRILL: Open bottom vent completely. Light large chimney starter three-quarters filled with charcoal briquettes (4 1/2 quarts). When top coals are partially covered with ash, pour evenly over half of grill. Place wood chip packet on coals. Set cooking grate in place, cover, and open lid vent completely. Heat grill until hot and wood chips are smoking, about 5 minutes.
3B. FOR A GAS GRILL: Remove cooking grate and place wood chip packet directly on primary burner. Set cooking grate in place, turn all burners to high, cover, and heat grill until hot and wood chips are smoking, about 15 minutes. Turn primary burner to medium-high and turn off other burner(s). (Adjust primary burner as needed to maintain grill temperature of 300 degrees.)
Unwrap pork and place fat side down in disposable pan. Place disposable pan on cooler side of grill. Cover grill (with lid vent directly over pork for charcoal) and cook until pork registers 120 degrees, about 2 hours. Thirty minutes before pork comes off grill, adjust oven rack to middle position and heat oven to 300 degrees.

Transfer disposable pan from grill to rimmed baking sheet. Cover pan tightly with foil and transfer to oven (still on sheet). Cook until fork inserted in pork meets little resistance and meat registers 210 degrees, about 3 hours.

FOR THE BARBECUE SAUCE: Meanwhile, combine all ingredients in medium saucepan and bring to boil over medium-high heat. Reduce heat to medium-low and simmer, whisking constantly, until slightly thickened, about 3 minutes. Transfer sauce to bowl and let cool completely.

Carefully remove foil from disposable pan (steam will escape). Remove blade bone from roast using tongs. Immediately transfer hot pork to bowl of stand mixer fitted with paddle attachment. Strain accumulated juices from pan through fine-mesh strainer set over separate bowl; discard solids.

Mix pork on low speed until meat is finely shredded, about 1 1/2 minutes. Whisk pork juices to recombine, if separated, and add 1 1/2 cups juices to shredded pork. Continue to mix pork on low speed until juices are incorporated, about 15 seconds longer. Season with salt to taste, adding more pork juices if desired. Serve pork on hoecakes with barbecue sauce, pickles, and coleslaw.
Hoecakes
Sometimes called Johnny Cakes this is about as Southern as it gets
You can have this with soup, chili and stew or any meal for than matter. You can also make a sandwich.
1 cup self-rising flour
1 cup self-rising cornmeal
2 eggs
1 tablespoon granulated sugar
3/4 cup buttermilk
1/3 cup water
1/4 cup vegetable oil, (or bacon grease)
butter, (or oil) for frying and more for spreading
Mix well all ingredients, except for the frying oil. Heat the frying oil or butter in a medium or large skillet over medium heat. Drop the batter, by full tablespoons, into the hot skillet. Use about 2 tablespoons of batter per hoecake. Fry each hoecake until brown and crisp; turn each hoecake with a spatula, and then brown the other side. With a slotted spoon, remove each hoecake to drain on a paper towel-lined plate.