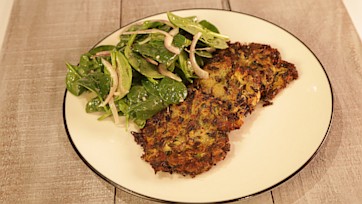 1 1/2-2 pounds spaghetti squash
1 cup wild rice (cooked according to package directions)
3 tablespoons flour
1/2 teaspoon chili flakes
1/4 cup scallions (sliced)
1/2 cup + 3 tablespoons olive oil (divided)
2 tablespoons red wine vinegar
1 tablespoon dijon mustard
1 tablespoon shallots (minced)
1 tablespoons dill (chopped)
4 cups baby spinach
1/2 red onion (thinly sliced)
kosher salt and freshly ground black pepper (to taste)
Preheat oven to 400ºF. Sliced spaghetti squash in half crosswise and place cut side down in a baking dish. Add enough water to cover the bottom of the baking dish, cover with foil and bake until tender, about 30-35 minutes. Remove from the oven and allow to cool. Once cool enough to handle, scoop the squash out, chill completely and break into strands. Place cooled spaghetti squash in a towel and squeeze out excess liquid.
In a large bowl, add the squash, rice, flour, chili flakes and scallions. Season with Kosher salt and freshly ground black pepper.
In a large sauté pan add 1/4 cup olive oil and heat over medium-high heat. Add 1/2 cup of squash mixture and press into pancake using a spatula. Allow to cook until golden brown and crisp, about 2 minutes. Flip and cook on the other side until golden brown, another 2 minutes. Season with salt and remove to a cutting board. Cut into 4 wedges and repeat with the remaining squash mixture.
In a bowl, add the vinegar, mustard, shallots, dill, and 1/2 cup olive oil and whisk to combine. Season with Kosher salt and freshly ground black pepper. Add the spinach, red onion and gently toss to combine. Serve the spinach salad with the rosti.
Tip: Alternatively, make one large rosti. Use a plate to help invert the rosti and easily slide back into the pan.
The Chew