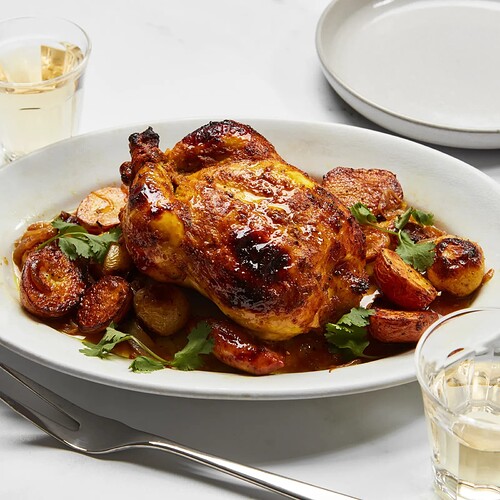 ½ cup plain alternative yogurt, such as almond, cashew, or coconut
¼ cup coconut aminos
9 large garlic cloves, peeled
1½ tablespoons kosher salt
1 tablespoon black peppercorns
3-inch knob yellow turmeric root, peeled and roughly chopped
3-inch knob ginger, peeled and thinly sliced against the grain
2 juicy lemons, whole
3 Cornish hens (about 1¼ pounds each)
For the dish:
¼ cup extra-virgin olive oil
2 large yellow onions, thinly sliced
3 teaspoons kosher salt
1 pound tiny potatoes (1 to 2 inches in diameter), halved if bigger than 1 inch
Marinate the hens:
Combine the yogurt, coconut aminos, garlic, salt, peppercorns, turmeric, and ginger in a blender. Use a Microplane to grate in the zest of both lemons, then halve one and squeeze in the juice. Reserve the re-maining lemon for another purpose. Blend on high speed until smooth, about 1 minute.
Rinse the hens under cool water, inside and out, and pat dry very well. Put them in a large bowl or pan and spoon about one third of the yogurt marinade into the cavities of the birds, spreading it around as best you can. Pour the rest of the marinade over the hens, using the spoon to make sure they're completely coated, tops and bottoms, including the wings and crevices between the legs and breasts.
Cover and marinate in the fridge for at least 16 hours or up to 2 days.
Make the dish:
About half an hour before you're ready to cook the hens, remove them from the fridge to take the chill off. Heat the oil in a wide, heavy skillet over medium heat until shimmery. Add the onions and 1½ teaspoons of the salt. Stir well, and cook, stirring occasionally, until the onions start to soften and release liquid, about 3 minutes. Reduce the heat to a gentle simmer, stirring occasionally, until all the liquid has evaporated and the onions have a creamy texture, turn a deep golden color, and taste very sweet, about 20 minutes.
Preheat the oven to 450°F. Spread the potatoes on a large sheet pan, sprinkle with the remaining 1½ teaspoons of salt, and toss well. Add the cooked onion mixture, stir well, and spread them to make a bed for the hens—a snug single layer in the center of the pan.
Take the hens out of the marinade (don't scrape any off, but do leave behind anything left in the bowl) and put them on the potato-onion mixture, with a few inches of space between each one. Roast until the hens are golden brown with some dark patches and poking the thighs reveals juices with no trace of pink (a thermometer inserted into the thickest part of the breast should register 150°F), 40 to 45 minutes.
Let the hens rest in the pan for 15 minutes, then transfer to a platter to serve.