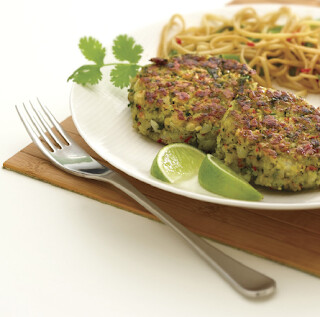 Ingredients
50g/2 oz white or wholemeal bread
3 spring onions
2 small red chillies
Finely grated zest of 1 lime
Pinch of sugar
45ml/3 tbsp chopped fresh coriander
225g/8oz shelled raw tiger prawns
1 egg yolk
1-2 tbsp plain flour, for dusting
3 tbsp sunflower oil
150g/5oz medium egg noodles
1 garlic clove, crushed
1 rounded tsp grated fresh root ginger 50g
50g//2oz mangetout, trimmed and thinly sliced lengthways
2 tbsp soy sauce 1 tsp sesame oil
1 tbsp toasted sesame seeds
Method
Make the breadcrumbs in the food processor then remove from the bowl. Halve both chillies lengthways and discard the seeds. Put the spring onions and the chilli into the food processor and chop.
Add the lime zest, sugar, 2 tbsp of the coriander and a generous pinch of sea salt to the spring onion and chilli in the processor and blend to a coarse paste. Add the prawns and blend again so everything is chopped but still has some texture. Add the breadcrumbs and egg yolk and pulse to mix.
Tip the mixture on to a floured surface and with floured hands lightly shape into 4 rounds, each about 1 cm thick. (You can make ahead up to this point. Cover and keep refrigerated for up to 24 hours.)
Heat 2 tbsp of the sunflower oil in a smallish frying pan and start frying the prawn cakes - cook over a medium heat for 3-4 minutes on each side, turning them over when they become golden. As soon as you have turned the prawn cakes, put the noodles into a saucepan of boiling water on a back burner. Stir to separate and cook for 4 minutes.
Meanwhile, heat the remaining 1 tbsp sunflower oil in a wok (or another frying pan) and stir-fry the garlic, ginger. Tip in the mangetout and stir-fry for a further 2 minutes. Remove from the heat and stir in the soy sauce, sesame oil and lime juice.
Drain the noodles and toss them into the stir-fry. Pile on to plates, top with the prawn cakes and sprinkle with toasted sesame seeds and remaining coriander.