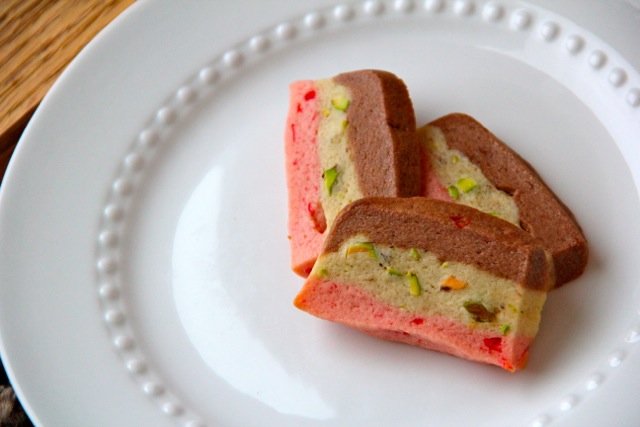 Cookie Base:
1c butter, softened
1/2c sugar
1 egg
1t vanilla
2-1/4c flour
1/2t salt
Pistachio Dough:
1/4c pistachios, chopped fine
1/2t pistachio or almond extract
Cherry Dough:
2T Maraschino cherries, chopped
Chocolate Dough:
2T semisweet chocolate chips, melted
In the bowl of a stand mixer, cream butter and sugar. Add egg and vanilla.
Incorporate flour and salt. Mix until dough forms a ball. Scrape sides of bowl and remove dough ball to a cutting board. Cut dough into three equal portions.
Put one portion back into bowl of stand mixer with pistachios and pistachio or almond extract. Mix to combine. Scrape sides of bowl and remove dough from bowl and set aside.
Put second portion of dough into mixer bowl and add cherries. Beat until dough is pink and cherries are mixed in. Scrape sides of bowl and remove dough from bowl and set aside.
Put third portion of dough into bowl and add melted chocolate. Mix until dough is brown and chocolate is incorporated. Scrape bowl and set dough aside.
Line a loaf pan with wax paper or heavily grease it. Press chocolate dough in an even layer in the bottom of loaf pan, followed by an even layer of pistachio dough, and lastly, the cherry dough. Freeze the dough at least one hour.
Preheat oven to 375. Grease two baking sheets.
Carefully remove dough from loaf pan. Using a long, sharp knife, slice frozen dough down the middle length-wise. Then cut 1/4 inch slices from one end to the other. Repeat with other half. Lay slices on greased cookie sheet.
Bake 10 minutes.