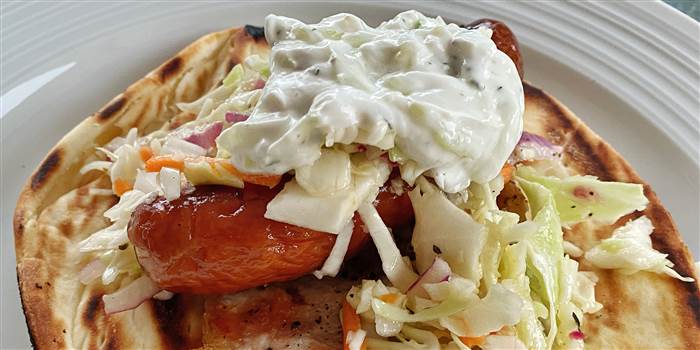 Peppercorn Sauce
1 medium English cucumber, peeled and grated
1 teaspoon salt
2 cups low-fat plain Greek-style yogurt
1/2 large lemon, juiced
4 medium cloves garlic, peeled and minced
1 teaspoon dried dill weed
1 teaspoon chopped fresh mint
2 teaspoons cracked black peppercorns
Slaw
1 cup thin strips red cabbage
1/2 cup sliced carrots
1 cup thin strips green cabbage
1/2 cup sliced red onion
3 tablespoons apple cider vinegar
1 teaspoon Dijon mustard
1 tablespoon olive oil
1 teaspoon dried basil
2 teaspoons granulated sugar
1/4 teaspoon salt
1/4 teaspoon freshly ground black pepper
Wraps
6 (2.5-ounce) thin-cut pork chops
1/4 teaspoon salt
1/4 teaspoon ground black pepper
6 (6-inch long) pork sausages
6 pita breads
For the peppercorn sauce:
In a medium bowl, add cucumber and sprinkle with salt. Let sit 10 minutes, then place in a cloth or paper towel and squeeze out all the liquid.
In a separate large bowl, add yogurt, lemon juice, garlic, dill, mint and peppercorns. Whisk to combine. Add cucumber and mix thoroughly. Cover and refrigerate until ready to use.
For the slaw:
In a medium bowl, mix together red cabbage, carrots, green cabbage and onion.
In a separate small bowl, mix together remaining ingredients.
Pour over vegetables and stir. Cover and refrigerate until ready to use.
For the wraps:
Preheat grill or grill pan to medium heat. Season pork chops with salt and pepper and grill 4 minutes on each side.
Remove chops to a cutting board. Cook sausages on grill over medium heat until cooked through and hot, about 8 minutes.
Remove sausages to cutting board. Grill pita bread over medium heat until toasty, about 2 minutes.
Place 1 pork chop, 1 sausage and 1/6 of the slaw on pita bread and top with 1/6 of the peppercorn sauce. Fold into a taco. Repeat with remaining ingredients and serve immediately.