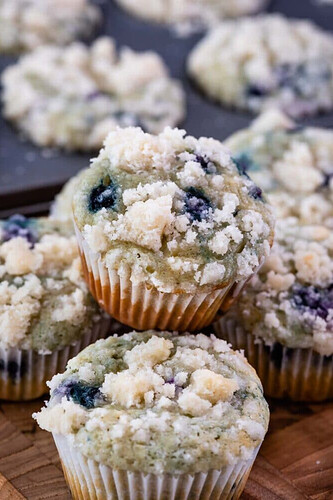 Streusel Topping
3 tablespoons melted butter
2 teaspoons lemon zest
3 tablespoons sugar
1/2 cup flour
Muffin Batter
2 eggs
2 1/2 cups flour
1 cup sugar
2 teaspoon baking powder
1/2 teaspoon baking soda
1 cup milk or buttermilk
3 teaspoons melted butter
1/4 cup vegetable oil
2 cups blueberries fresh or frozen
1 tablespoon flour this is for dusting the blueberries
Preheat the oven to 450 degrees.
Prepare streusel topping:
Mix melted butter, sugar, lemon zest, and flour in a small bowl. Set aside.
Blueberry muffin preparation:
Whisk melted butter, vegetable oil, eggs, and milk (or buttermilk) in a bowl. Whisk until the mixture is uniform.
In another bowl add 2 1/2 cups of flour that you have sifted, baking powder, baking soda, and stir to combine.
Combine the whisked egg mixture and the dry ingredients in a bowl, stir to combine.
Sprinkle 1 tablespoon of flour over the blueberries, then add the blueberries to the muffin batter, stir only until they are mixed. If you overmix the batter after you add the blueberries the blueberries will burst and turn the batter purple.
Grease muffin tin with non-stick spray.
Fill the muffin tins 2/3 full of batter. Top with streusel mixture.
Bake at 425 degrees for 10 minutes. Lower the oven temperature to 375 and bake for another 10 or 15 minutes.