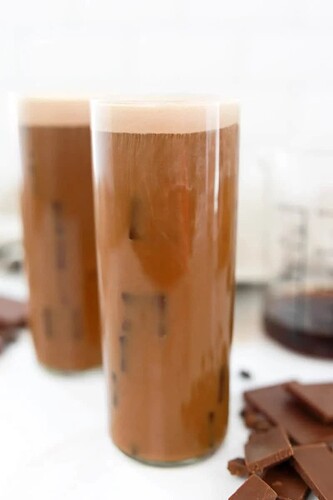 Chocolate Cold Foam:
½ cup heavy cream
½ cup 2% milk
2 tablespoons Hershey's chocolate syrup
1 teaspoon malt powder
2 teaspoons granulated sugar
1/16 teaspoon salt
Chocolate Cream Cold Brew Drink:
ice
2 teaspoons vanilla syrup
cold brew coffee
Chocolate Cold Foam:
In a blender combine heavy cream, 2% milk, Hershey's chocolate syrup, malt powder, sugar, and salt.
Blend for 30 seconds or until frothy.
Chocolate Cream Cold Brew Drink:
Fill a 16-ounce glass halfway with ice.
Add 1 1/2 tablespoons of vanilla syrup.
Pour enough cold brew to fill the cup within 1 inch of the top.
Pour chocolate cold foam over the top.