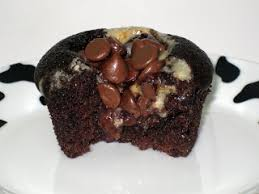 -A Repost
In my neighborhood you can't go three blocks without running into a Starbucks. I must admit, I sometimes feel addicted to their flavorful coffees and fresh baked goods. The unfortunate thing is that if I went to Starbucks everyday I would be broke by now! Fear not! Chef Tom to the rescue with this amazing copycat recipe for Starbucks Black Bottom Cupcakes. If you crave the Starbucks Frappuccino, then I suggest you get a copy of America's Restaurant Recipes.
Makes : 36
Ready In : Under 60 minutes
Ingredients :
Filling:
8 ounces cream cheese, room temp
1/3 cup sugar
1 large egg
dash salt
1 small bag milk chocolate chips
Cake Batter:
2/3 cup cocoa
3 cups flour
2 cups sugar
2 teaspoons baking soda
1/2 teaspoon salt
2 cups water
2/3 cup oil
2 tablespoons vinegar
2 teaspoons vanilla
Directions :
Preheat oven to 350 degrees.
Cream the sugar and cream cheese. Mix in the egg and salt. Now stir in chocolate chips. Set the filling aside.
Sift together flour, sugar, cocoa, baking soda, and salt. Next add water, oil, vinegar and vanilla. Mix well.
Fill cupcake liners a little more than half full with chocolate batter. Drop about a generous teaspoon of cream cheese mixture on the top of each in the middle.
Bake in a 350 degree oven for approximately 20 minutes. About 10 minutes into baking, sprinkle some extra chocolate chips on top of each cupcake.
Makes three dozen.