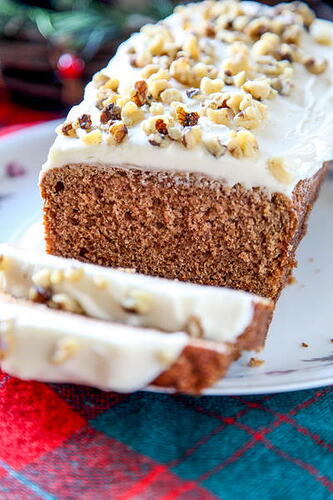 For the Loaf
½ Cup Butter, Softened
1 Cup White Sugar
1 Teaspoon Vanilla Extract
1 Egg
1 Cup Applesauce
1½ Cups All Purpose Flour
1 Teaspoon Baking Soda
1 Teaspoon Salt
2 Teaspoon Ginger, Ground
2 Teaspoons Cinnamon, Ground
1 Teaspoon Cloves, Ground
½ Teaspoon Nutmeg, Ground
Chopped Walnuts, For Garnish
For the Frosting
4 Ounces Cream Cheese, Softened
1 Teaspoon Vanilla Extract
2 Cups Powdered Sugar
Preheat oven to 350 degrees F. Grease a 9x5" loaf pan.
In a large bowl, cream butter and sugar until light and fluffy. Stir in vanilla,egg, baking soda, salt, ginger, cinnamon, cloves, and nutmeg.
Stir in applesauce.
Gradually add flour a little at a time until just combined. Do not over mix.
Evenly spread into prepared loaf pan. Bake for 50-55 minutes or until a toothpick inserted in the center comes out clean.
Cool completely.
For the Cream Cheese Frosting
In a medium bowl, beat cream cheese and vanilla. Gradually add powdered sugar a little at a time until you reach your desired consistency.
Spread frosting evenly over the gingerbread loaf. Sprinkle with chopped walnuts if desired.