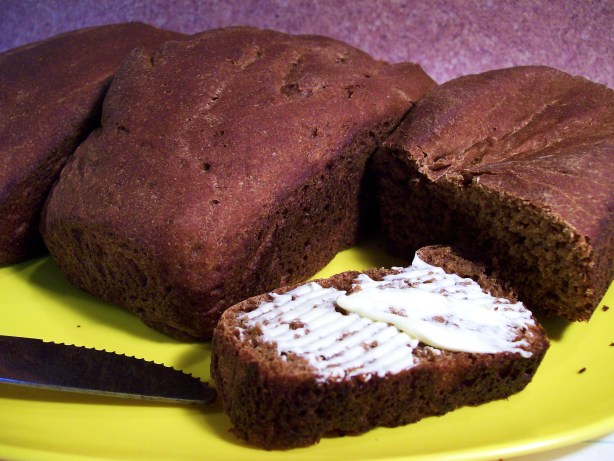 1/2 cup (60 grams) bread flour
1 envelope yeast
1/2 cup (120 ml) lukewarm water
2 tbsp (10 grams) cocoa powder
1 1/2 cups (180 grams) bread flour
1 cup (120 grams) rye flour
1 1/2 cups (180 grams) whole wheat flour
2 tbsp sugar
1 tsp salt
1/4 cup (60 ml) almond oil (vegetable oil can be used instead)
3/4 cup (180 ml) strong black coffee
In a mixing bowl add 1/2 cup bread flour, yeast and 1/2 cup lukewarm water. Stir and leave at room temperature until bubbles appear and the mixture begins to have a spongy texture.
Meanwhile sift the flours and cocoa powder together.
When the yeast is dissolved add the flour mixture, sugar, salt and almond oil.
With the dough hook on start mixing slowly adding the black coffee.
Soon the dough will clean itself from the sides of the dough and become elastic.
Keep kneading 5 more minutes (10 if done by hand) and place the dough in a greased bowl. Cover with plastic foil and leave at room temperature for about 1 hour or until doubled in size.
Take the dough out, knead by hand 2 more minutes, place it in the greased bowl, cover and let rise again.
When risen, shape the dough in a log, place it in a 9X5 baking pan and leave again to rise, this time only for 20 minutes.
Meanwhile preheat the oven to 375F.
Bake the bread for 40 minutes or until the smell of fresh baked bread covers your kitchen.
Leave to cool slightly before removing from the baking pan.