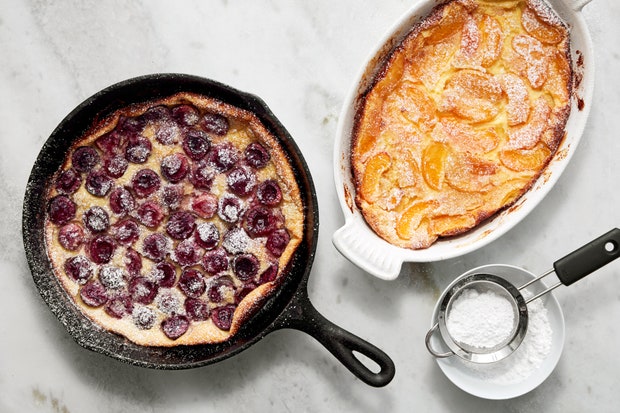 2 Tbsp. unsalted butter
3 large eggs
1 cup whole milk
1 tsp. finely grated lemon zest
1 tsp. kosher salt
1 tsp. vanilla extract
1/3 cup plus 2 Tbsp. granulated sugar
1/2 cup all-purpose flour
2 cups halved and pitted cherries, or pitted and sliced apricots
Powdered sugar (for serving; optional)
Preheat oven to 350°F.
Place butter in a 2–3-qt. shallow baking dish or medium 10" ovenproof skillet.
Transfer to preheating oven and heat until butter has melted, about 4–6 minutes.
Meanwhile, blend eggs, milk, lemon zest, salt, vanilla, and 1/3 cup granulated sugar in a blender until frothy, about 2 minutes.
Add flour and blend just until combined.
Pour batter into hot baking dish. Arrange fruit evenly over.
Sprinkle with remaining 2 Tbsp. granulated sugar.
Bake clafoutis until top is puffed and lightly golden brown, 25–35 minutes.
Let cool slightly, then sift powdered sugar over (if using).