Today's Secret Recipe comes from Stonehill Tavern in Dana Point, California. This elegant restaurant is located at the St. Regis Monarch Beach Resort and is the creation of chef Michael Mina.
On the menu is a decadent truffled Kobe burger, replete with creamy truffle aioli, truffled ketchup, shaved black truffle and a brioche bun made with truffle butter. It may sound like overkill, but it's a surprisingly subtle creation: The truffle plays off the separate components and unites them without drowning them out.
You don't have to make all parts of this showstopping burger — the buns, ketchup or mayonnaise can be store-bought. But any one of them, even just the truffle cheese, elevates it to something special.
You can also find a great selection of burger recipes on our forum: Go Here
Enjoy!
=-=-=-=-=-=-=-=-=-=-=-=-=-=-=-=-=-=-=-=-=-=-=-=
Secret Fat-Melting Tonic
Discover how this Ancient Japanese Tonic melts 50 pounds of Fat Here
=-=-=-=-=-=-=-=-=-=-=-=-=-=-=-=-=-=-=-=-=-=-=-=
=-=-=-=-=-=-=-=-=-=-=
New Secret Recipe
=-=-=-=-=-=-=-=-=-=-=
Stonehill Tavern Kobe burger
Like this recipe? Get our Restaurant Secret Recipes Cookbook – Go Here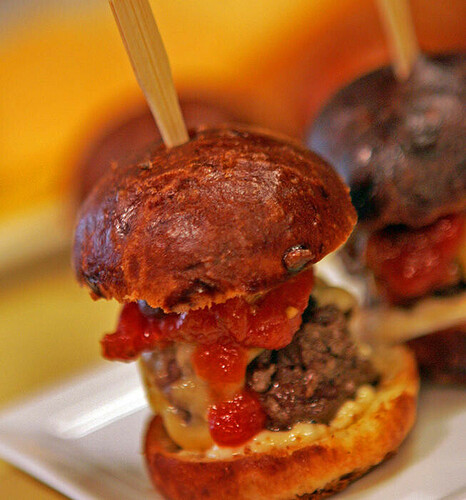 Truffle brioche buns:
1/4 cup milk
1 ( 1/4 -ounce) package dry yeast
3 3/4 cups all-purpose flour, divided
5 eggs, divided
1 teaspoon salt
2 tablespoons sugar
1/4 pound (1 stick) butter, at room temperature
4 ounces truffle butter, at room temperature
In a saucepan over medium heat, warm the milk to 105 to 110 degrees. Pour it into a large bowl, add the yeast and stir to dissolve. When the yeast gets slightly foamy (after about 10 minutes), stir in one-half cup of flour. Cover with plastic wrap; set aside for an hour in a warm place.

Heat the oven to 350 degrees. Place four eggs, the yeast mixture, 2 1/4 cups of the flour, and the salt and sugar in the bowl of a 5-quart stand mixer. With the paddle attachment, beat the mixture on medium speed until well mixed. Continuing on medium speed, slowly add in the butter and truffle butter.

When completely mixed, the dough should be fairly wet but pull away cleanly from the sides of the bowl. Add flour as necessary, up to 1 cup. When the mixture starts to pull together, switch to a dough hook and knead for a few minutes.

Remove the dough from the mixer and shape into six flattened balls about half the size of the buns that you want. Place the balls on a greased and floured cookie sheet, leaving space for them to rise. Cover with a damp towel or plastic wrap sprayed with cooking spray. Place the buns in a warm place, and allow them to rise until doubled in size, about 1 hour.

Brush the buns with an egg wash — one egg beaten with 1 tablespoon of water. Bake for about 25 minutes, or until the tops are a deep golden brown and a skewer inserted into the middle comes out clean. Cool on a wire rack before cutting.
Pickled onions:
1/2 cup white wine vinegar
1 tablespoon kosher salt
1 teaspoon black peppercorns
1 large red onion
In a small saucepan, bring the vinegar, 1 cup of water, salt and peppercorns to a boil.

Cut the onion into one-half-inch thick slices. In a heatproof bowl, pour the boiling liquid over the onion.

Cool the mixture to room temperature, and then store in the refrigerator for at least a couple of hours and ideally overnight.
Oven-dried tomatoes:
2 beefsteak tomatoes
1/4 teaspoon kosher salt
1/8 teaspoon freshly ground pepper
1 tablespoon extra virgin olive oil
Heat the oven to 250 degrees.

Cut the tomatoes into half-inch-thick slices and season both sides with salt and pepper. Lay the slices on a metal cooling rack set over a sheet tray and brush them with olive oil.

Bake the tomatoes for about 2 hours, or until they shrink by half and are about half-dried. Cool and reserve.
Truffle aioli:
2 egg yolks
1 teaspoon kosher salt
1 tablespoon lemon juice
1 teaspoon truffle scraps or pieces (optional)
3/4 cup canola or vegetable oil
1 teaspoon truffle oil (or more to taste)
In a small food processor, combine the egg yolks, salt, lemon juice and truffle pieces (if using).

With the food processor on, slowly add the canola oil in a thin stream into the eggs. Finish by adding the truffle oil. Adjust the seasoning to taste. Cool and reserve.
Truffle ketchup:
1/2 cup tomato paste
2 tablespoons sugar
1/4 cup truffle vinegar
2 teaspoons kosher salt
In a small saucepan over medium heat, bring 1 cup of water, the tomato paste, sugar, vinegar and salt to a simmer. Cook, stirring frequently, until a ketchup-like consistency has been reached, about 10 minutes. Adjust the seasoning to taste. Cool and reserve.
Burgers and assembly:
4 (8-ounce) Kobe-style hamburger patties (the restaurant uses Snake River Farms)
1/4 pound truffle cheese
4 brioche buns
2 tablespoons truffle butter
2 bunches watercress
1 recipe oven-dried tomatoes
1 recipe pickled onions
1 shaved fresh black truffle (optional)
Truffle ketchup
Truffle aioli
Grill the hamburgers over medium-high heat, preferably over wood charcoal (ideally oak) until medium rare, 3 to 5 minutes per side.

Cover the burgers with slices of the truffle cheese and allow the cheese to melt.

Brush the cut sides of the buns with truffle butter and grill, cut side down, until slightly toasted.

Place the burgers on the buns and garnish with the watercress, oven-dried tomato, pickled onions, optional shaved truffle, truffle ketchup and truffle aioli. Serve immediately.
Serves 4
Source: LA Times
Get more secret restaurant recipes on our Secret Recipe Forum: Go Here
Until Next Time… Be Well!
Kind Regards,
RSN