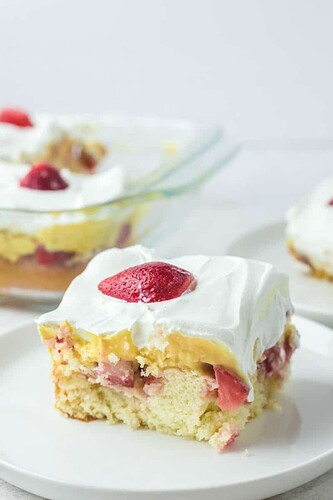 From the Cook's Country TV episode: Forgotten Cakes
The top of the cake will look slightly overbaked—this keeps the crumb from becoming too soggy after the gelatin is poured on top.
Serves 12.
Ingredients
Cake
12 tablespoons (1 1/2 sticks) unsalted butter , softened, plus extra for preparing pan
2 1/4 cups all-purpose flour , plus extra for preparing pan
4 teaspoons baking powder
1 teaspoon salt
1 cup whole milk
2 teaspoons vanilla extract
6 large egg whites
1 3/4 cups sugar
Syrup and Topping
4 cups frozen strawberries
6 tablespoons sugar
2 tablespoons orange juice
1/2 cup water
2 tablespoons strawberry-flavored gelatin
2 cups heavy cream
Instructions
  1. For the cake: Adjust oven rack to middle position and heat oven to 350 degrees. Grease and flour 9 by 13-inch baking pan. Whisk flour, baking powder, and salt in bowl. Whisk milk, vanilla, and egg whites in large measuring cup.

  2. With electric mixer on medium-high speed, beat butter and sugar until fluffy, about 3 minutes, scraping down bowl as necessary. Add flour mixture and milk mixture alternately, in two batches, beating after each addition until combined, about 30 seconds each time. Using rubber spatula, give batter final stir. Scrape into prepared pan and bake until toothpick inserted in center comes out clean, about 35 minutes. Cool cake completely in pan, at least 1 hour. Once cool, cake can be wrapped in plastic and kept at room temperature for up to 2 days.

  3. For the syrup and topping: Heat 3 cups strawberries, 2 tablespoons sugar, juice, and water in medium saucepan over medium-low heat. Cover and cook until liquid is deep red and strawberries are softened, about 10 minutes. Strain liquid into bowl, reserving solids, then whisk gelatin into liquid. Let cool to room temperature, at least 30 minutes.

  4. Meanwhile, poke about 50 holes in top of cooled cake (see photos). Slowly pour cooled liquid evenly over top of cake. Wrap with plastic wrap and refrigerate until gelatin is set, at least 3 hours or up to 2 days.

  5. Pulse reserved strained strawberries, 2 tablespoons sugar, and remaining strawberries in food processor until mixture resembles strawberry jam. Spread strawberry mixture evenly over cake. With electric mixer on medium-high speed, beat cream with remaining sugar to soft peaks. Spread cream over strawberries. Cut cake into squares and serve.

Preparation Suggestions:
Perfecting the Poke. Finding the right poking device wasn't as simple as you might think. Toothpicks were too small, while straws, handles of wooden spoons, pencils, and fingers were too big. A wooden skewer finally did the trick. But just poking didn't create a large enough hole for the liquid to seep into. In order to create deep lines of red color against the white crumb, we had to poke and then twist the skewer to really separate the crumb.
Using a skewer, poke about 50 deep holes all over the top of the cake, but be careful not to poke all the way through to the bottom. Twist the skewer to make the holes slightly bigger, which will allow more liquid to sink into each hole.
Slowly pour the cooled gelatin mixture evenly over the entire surface of the cake.