I searched and found a similar recipe is on this site with whipped topping and strawberry gelatin. This is the Cook's Country version which is a little more homemade and lots more strawberries.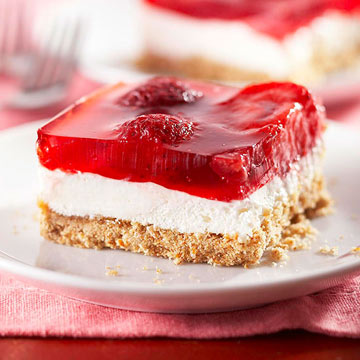 6 1/2 ounces pretzel sticks
2 1/4 cups (15 3/4 ounces) sugar
12 tablespoons unsalted butter melted and cooled
8 ounces cream cheese
1 cup heavy cream
3 pounds (10 1/2 cups) frozen strawberries, thawed
1/4 teaspoon salt
4 1/2 teaspoons unflavored gelatin
1/2 cup cold water
Adjust oven rack to middle position and heat oven to 400 degrees. Spray 13 by 9-inch baking pan with vegetable oil spray. Pulse pretzels and ¼ cup sugar in food processor until coarsely ground, about 15 pulses. Add melted butter and pulse until combined, about 10 pulses. Transfer pretzel mixture to prepared pan. Using bottom of measuring cup, press crumbs into bottom of pan. Bake until crust is fragrant and beginning to brown, about 10 minutes, rotating pan halfway through baking. Set aside crust, letting it cool slightly, about 20 minutes.

Using stand mixer fitted with whisk, whip cream cheese and ½ cup sugar on medium speed until light and fluffy, about 2 minutes. Increase speed to medium-high and, with mixer still running, slowly add cream in steady stream. Continue to whip until soft peaks form, scraping down bowl as needed, about 1 minute longer. Spread whipped cream cheese mixture evenly over cooled crust. Refrigerate until set, about 30 minutes.

Meanwhile, process 2 pounds strawberries in now-empty food processor until pureed, about 30 seconds. Strain mixture through fine-mesh strainer set over medium saucepan, using underside of small ladle to push puree through strainer. Add remaining 1½ cups sugar and salt to strawberry puree in saucepan and cook over medium-high heat, whisking occasionally, until bubbles begin to appear around sides of pan and sugar is dissolved, about 5 minutes; remove from heat.

Sprinkle gelatin over water in large bowl and let sit until gelatin softens, about 5 minutes. Whisk strawberry puree into gelatin. Slice remaining strawberries and stir into strawberry-gelatin mixture. Refrigerate until gelatin thickens slightly and starts to cling to sides of bowl, about 30 minutes. Carefully pour gelatin mixture evenly over whipped cream cheese layer. Refrigerate salad until gelatin is fully set, at least 4 hours or up to 24 hours.