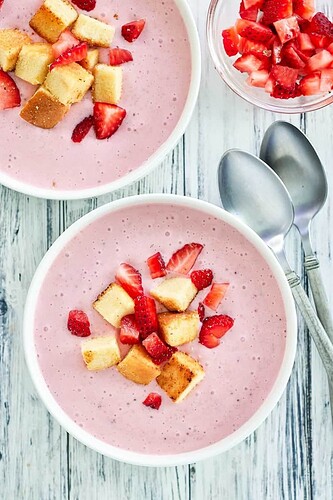 Pound Cake Croutons:
8 ounces pound cake
1 tablespoon butter
Soup:
1 pound fresh strawberries washed and cored (plus extra to garnish, if desired)
1 cup French vanilla yogurt
2 teaspoons sugar
whipped cream optional
Pound Cake Croutons:
Cut the pound cake into 4 slices, each about 1/2-inch thick. Cut the slices into small cubes.
Heat a large skillet over medium heat. Add 1 tablespoon of butter.
When the butter is hot, place the pound cake cubes in the skillet and gently toast until they are golden brown, turning about every 15 seconds.
Soup:
Place the strawberries, French vanilla yogurt, and sugar in a blender. Blend until smooth.
Pour the strawberry soup into serving bowls.
Top with the toasted pound cake croutons, and garnish with fresh strawberries and whipped cream if desired.