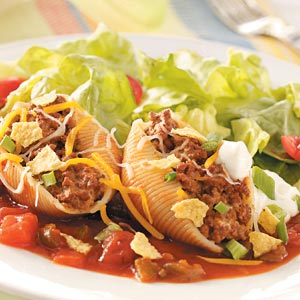 1 package (16oz) large shells
2 lb ground beef (or ground turkey)
1 can (4 oz) diced green chilies
1 cup salsa
4 cup mexican blend shredded cheese
6 Tbsp taco seasoning (homemade or 2 packages)
salsa, for bottom of baking dish
toppings: tomato, lettuce, avocado, sour cream, black olives
Cook large shells pasta according to package directions. Once cooked, separate and place on parchment paper on counter. Set aside.
While pasta is cooking, brown ground beef (or ground turkey) in a large skillet. Once browned, drain grease and return meat to skillet. Add in green chilies, corn and black bean salsa, and taco seasoning. Fold in shredded cheese. Set aside.
Using a large spoon, stuff each shell with taco meat mixture, until all shells are stuffed. Place shells in ziploc bag and freeze until ready to use. When ready to cook, follow step 4 below.
OR, if baking immediately, pour about 1 cup of salsa in bottom of baking dish. Choose a dish size that will fit the number of shells you are going to be cooking. For my family, we each eat about 2-3 shells per meal. On top of salsa, add shells. Cover dish with foil and bake for 45 minutes in a 350F oven. Remove foil and bake an additional 5-15 minutes, until salsa on bottom is bubbly and mixture inside shells is fully heated.