Subway - for the Subway Lovers!
=-=-=-=-=-=-=-=-=-=-=-=-=-=-=-=-=-=-=-=-=-=-=-=
Lose Weight While Still Enjoying Your Favorite Restaurants
Try this Water Hack
=-=-=-=-=-=-=-=-=-=-=-=-=-=-=-=-=-=-=-=-=-=-=-=
Love their bread? Just click on the Subway Bread title below for the recipe - here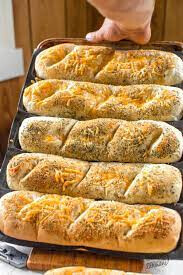 Subway Flatbread
1 c warm water
1 pkg (1 T) yeast
1/4 c sugar
1 egg
3 T milk
1 t salt
3-5 cups flour
1/4-1/2 c butter
onion salt
garlic salt
In mixing bowl sprinkle yeast over water. Add sugar and let sit til frothy. Beat egg and add to yeast water along with milk and salt. Stir in half of the flour until mixture is creamy. Mix in enough flour to form a soft dough. Knead 6-8 minutes. In warm place, let dough raise until doubled (45-60 minutes). Punch down and divide 6-12 balls (depending on desired size of bread. 6 balls should do 6 approximately 6in x 6in pieces (maybe bigger)-pefect for sandwiches like Subway. Twelve would do about 12 3-inch rounds-this would be good if you are just serving the flat bread with soup.)Let balls rest for 15 minutes. Heat grill pan (this makes fun grill marks on the bread, but I'm guessing a frying pan or griddle would work well aslo) over high heat. Punch down then roll out 1 of the rolls of dough. Roll it to about 1/2 centeimeter (almost 1/4 inch thick.)
Remember, that's 1/4 of the inch side, or 1/2 of the centimeter side. These will expand a little while cooking so make sure they aren't TOO thick. But if they are too thin they will come out more like cracker bread than the doughy yummy flatbread we're all wanting! After you've got one rolled out turn the heat down to LOW for the grill pan. Melt 1/4 cup butter and add onion salt and garlic salt to taste. Brush over rolled out dough.
Next, lay it face down in the grill pan and cook (for me, it took about 2-3 minutes on low-2 setting. But watch it carefully!) I do not recommend using the top part of a grill pan for these. It will bubble on the top side as shown in this picture.
If desired butter the uncooked side and flip over.
It may seem a little doughy when you take it out of the pan-and you will just have to experiment with your stove and your pan to see where perfection lies.
Subway Italian herb and cheese bread
Italian herb and cheese is principally Subway bread recipes with melted cheese and herb on top of it. The ingredients embrace 3 cups of excessive gluten flour, 1 ½ tsp of salt, 1 desk spoon of entire wheat ground, tender butter, dry lively yeast, and honey.1 cup of worm water and at last 2T Italian herbs and cheese.
With ingredients in place, here are the steps to comply with with a goal to make good bread;
• blend yeast in a combination of heat water and honey by stirring gently then set aside out of drafts for about 5 minutes.
• in a bowl of mounded flour, create a hole within the center. Pour salt, dump the wheat flour into the bowl.
• when the yeast has completely formed a thick head, gently pour this to the hollow you had created utilizing a fork to mix the liquid in the flour. When blended right into a ball, pour out on a floured floor and knead till the dough is smooth. Cowl with muslin and leave to rise.
• when the dough doubles, punch it down and let it rise again. For the second time, take a cleaver and slice it in to 3 pretty equal sections as this can provide the flaky baguette crust.
• with floured hands, flatten one of many dough balls, after which yank onerous, pulling one aspect over the other. Fold the lid inside and flatten the dough. Repeat this three to 4 times, pat your mini loaf to even off form then put it aside. Do the identical for all the opposite dough. Cover them once once more with floured muslin and depart to rise.
• warmth the oven up to about 425 levels and when the loaves have risen or doubled in dimension, they go straight to the oven. Bake for 20 minutes at the identical temperature and when the loaves are prepared, cool on a wire rack and eat when ready.
With this bread recipe and components, you will be able to make your personal subway Italian herb and cheese bread from the comfort of your own kitchen. Don't count on a 100 percent similarity in style to the original bread you buy on the subway restaurant as a consequence of your home oven won't work in addition to the machines or professionalism of the employees at any of the subway branches.
Subway Wheat Bread
Ingredients
3 cups high gluten flour (King Arthur will work)
1 1/2 tsp salt
1 tablespoon whole wheat flour
1 tablespoon soft butter
1 tablespoon dry active yeast
1 tablespoon honey
1 cup + necessary warm (not hot) water
Directions
1.Pour yeast into warm water, add honey, stir gently to blend. Set aside out of drafts for 5 minutes.
2.Mound your flour into a bowl, then create a hollow in the center. Pour your salt along the edges of the bowl. Dump your wheat flour into the bowl. Toss the butter in wherever makes you happy.
Use a fork to blend the liquid into the flour. When blended into a ball, more or less, pour
out on a floured surface and knead, knead, knead, When your dough is smooth and has the same give as the tip of your nose when you press it (both the nose, and the dough.) Cover with a length of thick muslin (buy a yard at any fabric store,) and leave to rise.
4.When your dough has doubled, punch it down, recover, and leave to rise. When your dough has doubled again, take a cleaver and slice it into 3 fairly equal sections. Here's the part that helps you get the flaky baguette crust:
Flour your hands well. Take one of your dough balls and flatten it a bit, then yank hard, pulling one side over the other. Fold the lip inside, then flatten your dough and start again. Do this three or four times, pat your mini -loaf to even out the shape, then put it aside. Repeat the process with your other two mini-loaves. Cover all of them with your floured muslin and leave to rise until they double.
6.While you wait for them to double, pre-heat your oven to 425 degrees. If you have a baking stone, put it in the cold oven and start the pre-heat. (If you don't have a baking stone, the baguette pan above will do, and if you have neither, you can put your loaves on a cold cookie sheet before you put them in the oven. Still, recommend the baking stone.)
7.When the loaves have doubled, they go in the oven. If you're using the baking stone, scatter a handful of cornmeal on it to prevent stickage, then jerk your loaves onto the hot stone.
8.If you prefer a tenderer crust, brush them with beaten egg. Use a razor blade to score the top, then throw a half a cup of water in the bottom of the oven, quickly closing the door to keep the steam inside.
Enjoy!
RSN