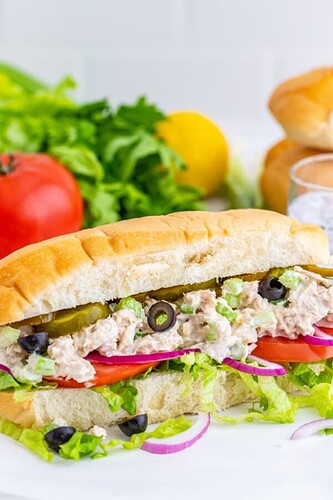 2 5-ounce cans water-packed tuna
2 tablespoons mayonnaise
2 6-inch sub sandwich buns
1 cup shredded lettuce
6 slices tomatoes
1/4 cup sliced cucumbers
1/4 cup sliced green bell peppers
1/4 cup sliced red onions
1/4 cup sliced black olives
10 slices dill pickles
10 slices jalapeños
2 slices white American cheese
2 tablespoons mayonnaise
To prepare the tuna salad, drain the excess water from the tuna. Place the drained tuna in a small bowl, and flake with a fork.
Add the mayonnaise and stir well to combine.
Cut each sandwich bun in half lengthwise.
Place two small scoops of tuna salad on the top portion of each bun.
On the bottom portion of each bun, add shredded lettuce and a few slices of tomato, green bell pepper, red onion, black olives, and pickled jalapeños.
Cut the cheese squares into triangles and add 2 triangles on top of the vegetables on each sandwich.
Add a squirt of mayonnaise if desired, close the buns, and serve.