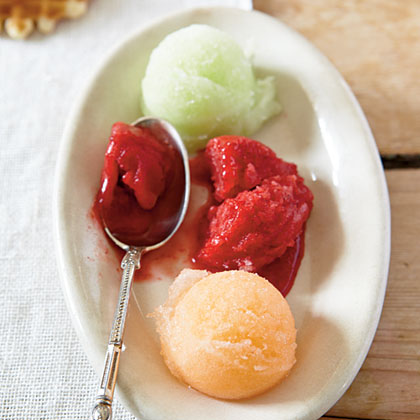 1 cup sugar
1/2 cup warm water
3 pounds cubed honeydew melon, cantaloupe, or strawberries, chilled
1 1/2 tablespoons fresh lime juice
1/4 teaspoon salt
Combine sugar and water, stirring until sugar dissolves.

Puree sugar mixture and remaining ingredients, in 2 batches, in a blender until smooth.

Press fruit mixture through a fine sieve into a large bowl using a spatula or the back of a wooden spoon.

Pour mixture into freezer container of an ice cream maker; freeze according to manufacturer's instructions (about 30 minutes). Transfer to an airtight container, and freeze at least 3 hours or up to 1 week. Let stand in the refrigerator 30 minutes before serving.