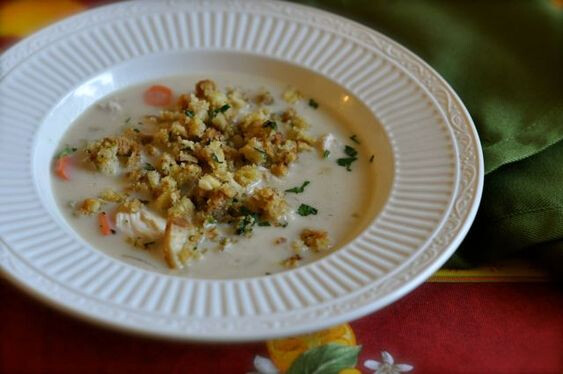 1 cup carrots, diced
1 cup of celery diced
4 cups of water
1/2 cup butter
1 1/2 cups chopped onions
3/4 cup flour
8 cups turkey broth**
2 teaspoons poultry seasoning
1 cup cooked turkey meat
2 cups heavy cream
1 teaspoon salt
1 tablespoon chopped flat leaf parsley
1 teaspoon black pepper
1 6 ounce box of instant turkey stuffing prepared according to package directions

In a medium sized pot add 4 cups of water and celery and carrots. Cook for approximately 10 – 12 minutes over a medium high heat. Drain carrots and celery and set aside.
Start soup by making the roux, you will need to melt 1/2 cup butter in a large stock pot over medium heat. Add onions to the melted butter, and cook onions until they are transparent. When onions are transparent add 3/4 cup of flour. Reduce heat to a medium-low heat and cook flour mixture for 1 to 2 minutes. The color should darken and this roux should smell like cooked pie crust. Turn heat up to a medium heat, and add 1 cup of turkey stock to mixture. Stir until thickened. Add another cup of turkey stock to flour mixture, stir until thickened. You may need to raise the heat just slightly to ensure rapid thickening. Add half of remaining stock, stir until thickened, and then add the remaining turkey stock.
Add turkey, cooked celery and carrots, poultry seasoning, salt, pepper, and parsley. Stir until well mixed. Add 2 cups of heavy cream, and cook for an additional 10 – 15 minutes on medium low heat. Cook stuffing according to package directions.
When you are ready to serve, ladle soup into a bowl and top with cooked stuffing.