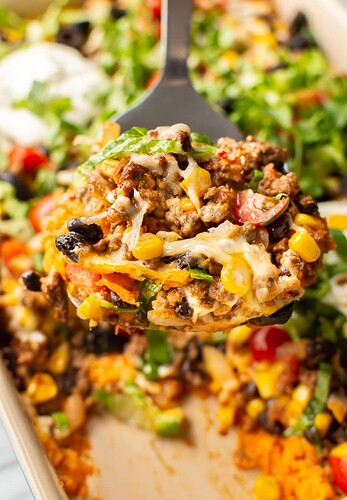 1 1/2 pounds ground beef
1 cup chopped white onion
1 package taco seasoning mix
1/2 cup water
2 tablespoons vegetable oil
18 corn tortillas
1 1/2 cup salsa
1 can Rotel Original Diced Tomatoes & Green Chilies
1 can refried beans
2 cups shredded cheese
Optional garnish
1/2 cup sour cream
1/4 cup sliced green onions
1/4 cup sliced black olives
Preheat oven to 350 degrees.
In a medium-sized skillet, brown the ground beef with chopped onions.
Drain and transfer the cooked beef to a bowl.
Add taco seasoning mix and 1/2 cup of water.
Heat vegetable oil in a skillet over medium-low heat.
Cut corn tortillas in half. Heat corn tortillas halves in the hot oil then drain them on a plate lined with paper towels.
Combine salsa and Rotel tomatoes in a blender. Blend to make a sauce.
Heat refried beans slightly in a microwave to make them spreadable.
Line a 13 x 9-inch baking pan with half of the corn tortillas.
Spread refried beans over the corn tortillas.
Spread the ground beef over the refried beans.
Pour the sauce over the ground beef.
Place another layer of the remaining corn tortillas over the ground beef.
Sprinkle shredded cheese on top. At this point, you can wrap the casserole and freeze it.
Bake the casserole at 350 degrees for about 20 to 25 minutes.