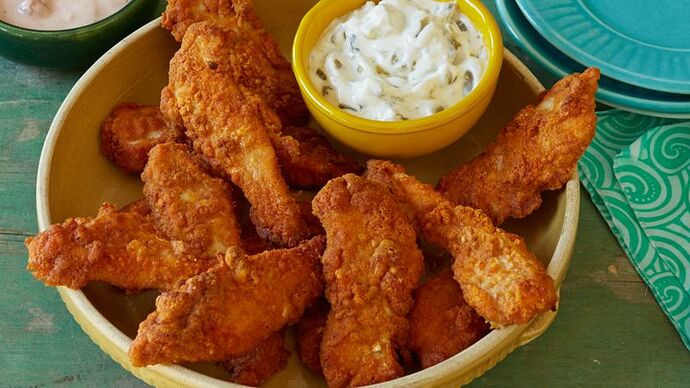 2 pounds chicken tenders
1 tablespoon chili powder
1 teaspoon ground cumin
1 teaspoon smoked paprika (or sweet)
1/2 teaspoon onion powder
1/4 teaspoon garlic powder
coarse salt and fresh ground black pepper
1/2 cup flour
1 cup sharp cheddar cheese, grated
3/4 cup panko crumbs
2 eggs
1 tablespoon milk
A few hours before cooking marinate the chicken tenders in buttermilk, cover and refrigerate.
Make the dressing and refrigerate.
In a small bowl mix chili powder, cumin, paprika, onion powder, garlic powder, 1/2 teaspoon salt and a few generous cracks of black pepper.
In a wide, shallow dish with short sides mix the flour with half of the spice mixture.
In a separate, wide shallow dish with short sides mix the cheese with the panko crumbs and half of the spice mixture.
In a bowl whisk the eggs and milk together. Season with salt and pepper.
Preheat oven to 400 degrees F. Spray a large baking sheet with non-stick spray.
Remove chicken from buttermilk; allow excess to drain off.
Use tongs to coat chicken with flour, then egg then cheesy panko crumbs - patting them on if needed. Place on baking sheet.
Repeat until all the chicken is coated.
Bake until chicken is golden brown and cooked through (internal temperature of 165 - 174 F.)
Serve with buttermilk ranch dressing for dipping.
Buttermilk Ranch Dressing
1/3 cup mayonnaise (regular or canola)
2/3 cup sour cream (regular or light)
3/4 cup buttermilk, plus more if needed
1/2 – 1 garlic clove, minced
1 teaspoon white vinegar
2 tablespoons fresh parsley, chopped
2 tablespoons fresh chives, chopped
1 teaspoon dried dill
salt and fresh pepper to taste
In a medium mixing bowl whisk together the mayo and sour cream, slowly whisk in buttermilk
until you reach a consistency you like, adding more than specified if needed.
Whisk in garlic, vinegar, parsley, chives and dill. Season to taste with salt and pepper.
From here you can tweak it to your own individual taste by adding more sour cream, mayo, vinegar or herbs.
Note
Rather than bake I deep fried the chicken and it turned out really well.