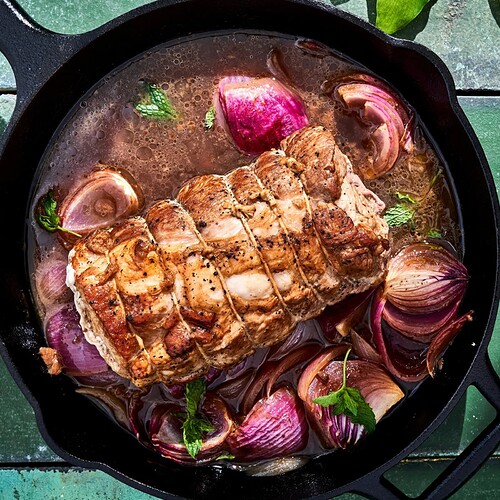 1 (2½-pound) center-cut pork loin
2 teaspoons kosher salt
Freshly ground black pepper
2 tablespoons canola oil
1/4 cup dark rum
1/8 cup tamarind paste, seeds removed
2 small red onions, quartered through the root end
2 cups chicken broth
3 tablespoon grated panela or dark brown sugar
1 tablespoon grated fresh horseradish, or 1 tablespoon prepared horseradish
1/2 cup mint leaves, chopped
Preheat the oven to 325°F.
Season the pork with the salt and pepper to taste. Let stand at room temperature for 15 to 30 minutes, to lose the cold from the refrigerator and for the salt to do its magic.
Heat the oil in a 10-inch cast-iron skillet or a heavy-bottom sauté pan. Add the roast and sear on all sides, 15 to 20 minutes, until a dark golden crust forms.
Remove the roast using tongs and transfer to a rimmed platter. Turn the heat to medium, deglaze the pan with the rum, and bring to a simmer, scraping up the brown crusty bits with the back of a wooden spoon. Cook until the alcohol evaporates, about 45 seconds. Add the tamarind paste, onions, chicken broth, and panela, and bring to a simmer. Return the pork to the pan. Carefully transfer the skillet to the preheated oven and roast for 40 to 50 minutes, until the internal temperature on a meat thermometer reaches 145°F.
Remove the pork loin from the sauce and transfer to a rimmed serving platter. Tent with foil and allow to rest, for 10 to 15 minutes. Meanwhile, finish the sauce: stir the horseradish and mint leaves into the sauce. Taste for seasoning and add a bit more salt if needed. To serve, cut the pork into medallions and spoon the sauce and onions over the loin.