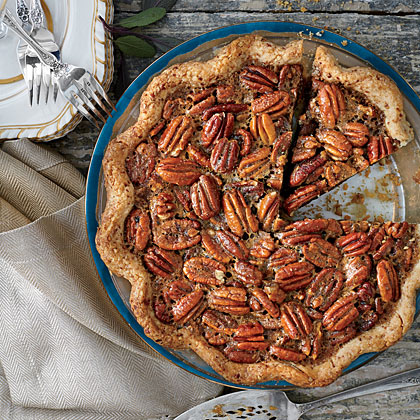 CRUST
1/2 tablespoon butter
1/4 cup finely chopped pecans
Pinch of kosher salt
1 1/4 cups all-purpose flour
2 tablespoons granulated sugar
1/2 teaspoon table salt
1/4 cup cold butter, cubed
1/4 cup cold shortening, cubed
3 to 4 Tbsp. buttermilk
FILLING
1 cup dark corn syrup
1/2 cup granulated sugar
1/2 cup firmly packed light brown sugar
1/4 cup Tennessee whiskey
4 large eggs
1/4 cup butter, melted
2 teaspoons plain white cornmeal
2 teaspoons vanilla extract
1/2 teaspoon table salt
2 1/2 cups lightly toasted pecan halves
REMAINING INGREDIENTS
Vegetable cooking spray
Whiskey Whipped Cream (optional, see below)
Prepare Crust: Melt butter in a small skillet over medium heat,
swirling to coat sides of pan. Add finely chopped pecans, and
sauté 2 minutes or until fragrant and lightly toasted. Sprinkle
pecan mixture with a pinch of salt. Remove pecans from skillet,
and cool completely. Reserve for use in Step 4.
Pulse flour and next 2 ingredients in a food processor 3 or 4 times or
until well combined. Add cubed cold butter and cold shortening; pulse
until mixture resembles coarse meal. Drizzle 3 Tbsp. buttermilk over
flour mixture, and pulse just until moist clumps form. (Add up to 1
Tbsp. buttermilk, 1 tsp. at a time, if necessary.) Shape dough into
a flat disk, and wrap tightly with plastic wrap. Chill dough at least
1 hour.
Meanwhile, prepare Filling: Place corn syrup and next 3 ingredients in
a large saucepan, and bring to a boil over medium heat, whisking
constantly. Cook, whisking constantly, 2 minutes; remove from heat.
Whisk together eggs and next 4 ingredients in a bowl. Gradually whisk
about one-fourth of hot corn syrup mixture into egg mixture; gradually
add egg mixture to remaining corn syrup mixture, whisking constantly.
Stir in lightly toasted pecan halves; cool completely (about 30 minutes).
Preheat oven to 325°. Unwrap dough, and roll into a 13-inch circle on
a lightly floured surface. Sprinkle dough with sautéed pecans (reserved
from Step 1). Place a piece of plastic wrap over dough and pecans, and
lightly roll pecans into dough. Fit dough into a lightly greased (with
cooking spray) 9-inch pie plate. Fold edges under, and crimp. Pour
cooled filling into prepared crust.
Bake at 325° for 50 to 55 minutes or until set; cool pie completely on
a wire rack about 2 hours before slicing. Serve with Whiskey Whipped
Cream, if desired.
Note:
Water or apple juice may be substituted for whiskey.
We tested with Jack Daniel's whiskey.
Whiskey Whipped Cream
1 cup heavy cream
1 teaspoon Tennessee whiskey
3 tablespoons powdered sugar
Beat cream and whiskey at medium-high speed with an electric mixer until
foamy. Gradually add powdered sugar, beating until soft peaks form.
Southern Living