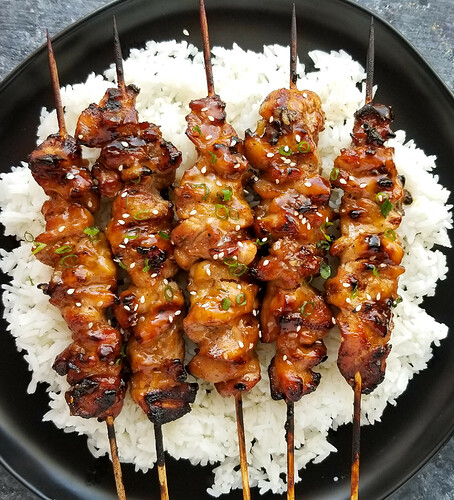 2 lbs. chicken thighs (or breasts) cut into 1" cubes
2 tablespoons cornstarch
1 cup water
1/3 cup brown sugar
1/3 cup soy sauce
2 cloves garlic minced
1 tablespoon rice vine vinegar
1/2 tablespoon fresh ginger minced
1 tablespoon honey
1/2 teaspoon sesame oil
8 skewers
sesame seed
chopped green onion
Prepare the sauce. Begin with your cornstarch and water mixture, and add this to the other sauce ingredients in a pot. Cook this until it begins to simmer and thicken. Once thick, take off the heat to cool completely.
Marinate cubed chicken in a large Ziplock with half of the cooled teriyaki sauce. Let this work its magic in the fridge for at least 30 minutes.
Skewer your meat and turn the grill on to medium. Once hot, cook the skewers on an oiled grill, or on a grilling mat. Turn the sewers every few minutes for consistent cooking. Pull off when the chicken reads 165 degrees, this will be about 20-30 minutes. At the end of that time, baste with the remaining sauce.
Top with sesame seeds and green onion for that finished, fancy meal effect.